*This post has been sponsored by Babbleboxx
It's here! My Kids Gift Guide 2019 is live. Lila and I had so much fun making this list together and she was beyond thrilled to tell me all of her favorite things.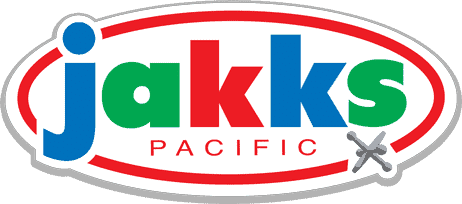 Jakks Toys Chocolate Poop Maker and GIGANTOSAURUS
This toy is hilarious and so cute, Lila couldn't wait to open it up and give it a try. It's such a silly way to make your own chocolates!
CHOCOLATE POOP MAKER: Kids can make their own adorable chocolate poops by melting the chocolate, "flushing" it down the toilet, pouring the chocolate into the molds, refrigerate for five minutes, and adding their own cute poo-tastic touches! The Chocolate Poop MakerTM comes in pink or white and can be used with chocolate from home! Includes one reusable toilet, one chocolate poop mold with cute faces, one packet of brown chocolate, one toilet plunger, and one reusable chocolate dispenser.
The Gigantosaurus is a ton of fun! It's interactive with the sounds it makes and it really comes to life when Lila plays with it.
GIGANTOSAURUS: Kids will love making Gigantosaurus stomp and roar!
At the push of a button, kids can make Gigantosaurus's mouth open and close and make roaring sounds. Kids can also make Gigantosaurus stomp to hear real stomping sounds. Figure has six points of articulation: legs, arms, tail, and mouth. Feature Giganto is approximately 15-inches long and 8-inches tall.
Julie Doll and Book
American Girl Dolls really need no introduction, but the new Julie doll is the 2019 Doll of the year and she is absolutely adorable. Lila didn't want to leave her display the last time we visited the store and we are so glad to welcome her into our home.
Optimistic Julie AlbrightTM has warm, lifelike brown eyes that open and close smoothly, and realistic long, straight blond hair styled with a tiny braid at the side. She comes in an authentic 1970s-style outfit with a lemon-yellow crocheted vest, tank top with a groovy peace-sign graphic, bell-bottom jeans with funky floral insets on each leg, platform sandals, and underwear. The 18″ JulieTM doll has a soft cotton body, and her movable head and limbs are made of smooth vinyl. Includes the paperback book The Big Break, the first book of Julie's stories, abridged and richly illustrated in full color.
Julie Pinball Machine
I didn't know such a cute little pinball machine could possibly exist. Julie's pinball machine is built to her scale and it even works so Lila can actually play it! Every doll should come with one of these, it's incredible.
Pinball arcades were incredibly popular in the '70s, and Julie loves to try to beat the high score! The Flip Side pinball machine works just like a real one, with flashing lights, a digital scorekeeper, a plunger to launch the metal ball, buttons to control the flipper arms on either side, bumpers, and realistic machine sounds. It's made of real metal and wood.
Julie Christmas Outfit for Dolls
The Christmas outfit for Julie is the perfect special touch for the holidays. Having such an adorable outfit for her makes her even more fun!
Christmas holds a special place in Julie's heart. Whether she's making holiday crafts with her mom or visiting the Fairmont Hotel to get hot chocolate with her dad and her sister, Tracy, she loves to dress up for the occasion. Outfit includes an authentic '70s-style pink velvet dress with rickrack and crochet trim, a mock turtleneck, and balloon sleeves that make Julie feel fancy, a black satin bow for her hair, a pair of opaque white tights to keep her legs warm, and a pair of black patent Mary Jane shoes with real metal buckles.
Julie Christmas Fireplace
The timing was perfect for Julie's Christmas Fireplace, Lila got to decorate our home while her new Julie doll decorated hers, and the tiny details are next level cute.
There's no fireplace for Santa to come down to in the new apartment that Julie moves to after her parents' divorce, so her mom gets a faux fireplace instead! Includes a traditional printed cardboard fireplace, including a faux fire and hooks on the mantle to hang stockings. A hand-painted real ceramic Christmas tree that really lights up! Two red felt stockings with Julie's name embroidered on the front of one and her sister Tracy's on the other. A real ceramic plate with a printed holly decoration to hold two gingerbread cookies for Santa to munch on. A glass of milk for Santa to drink. A note card to place by the milk and cookies for Santa. Two Christmas cards, one from Julie's best friend, Ivy, and the other from Julie's aunt. A letter to Santa from Julie with her Christmas list.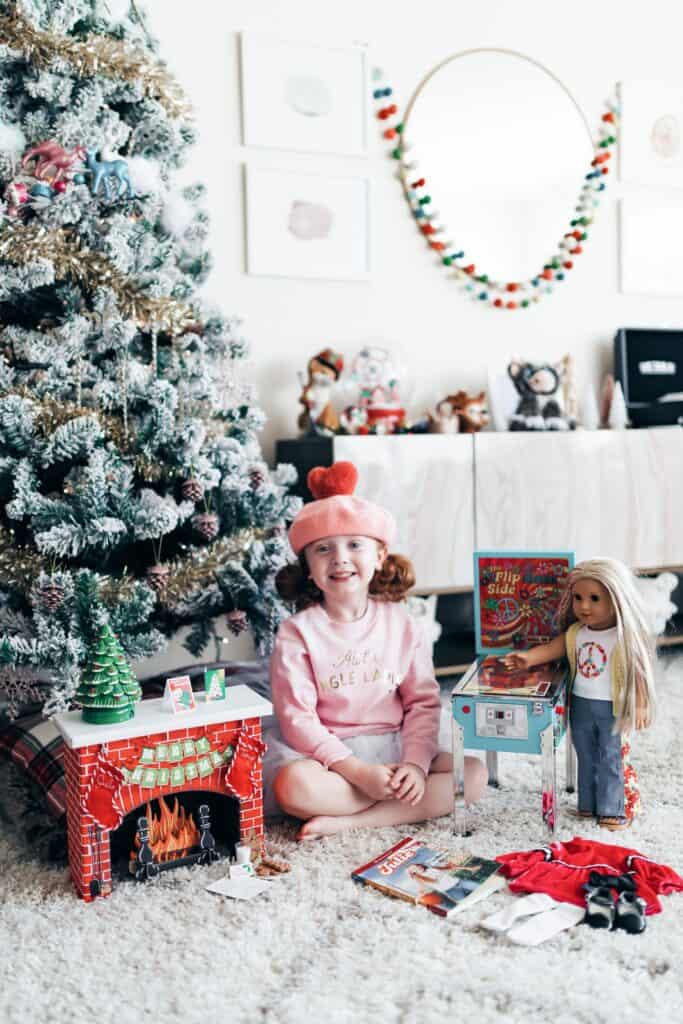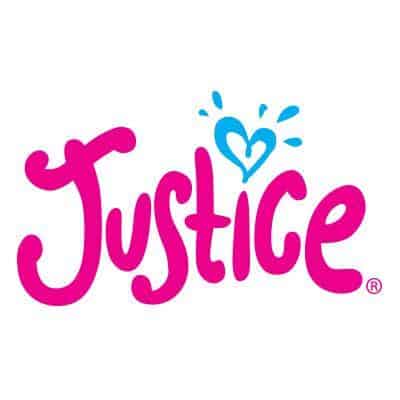 Justice Stripe Pompom Beanie
Can a girl really ever have enough accessories? This adorable beanie from Justice is going to be a timeless winter piece that Lila is going to enjoy for years to come.
Justice has the cutest accessories for winter, we love all their soft beanies especially their adorable striped sweater knit beanie. The large, fluffy pom pom on top adds style and flair. Made of snuggly soft winter knit to keep you cozy all day long.
Build-A-Bear Holiday Blue Blast Husky with sweater, scarf, & shoes
What do you get when you mix Build-A-Bear with a super cute Husky, and a tiny little puppy sized winter outfit? Just the cutest little Holiday plush ever!
Blue Blast Husky is ready for an adventure! This Northern husky pup is a loyal friend to anyone it meets. Blue Blast makes an ultra-cool furry friend with its wintry blue fur, white belly and soft bushy tail. Whether out sledding or just exploring the snowy woods, this howlin' cute husky stuffed animal is sure to warm your heart. Make your furry friend even more unique by choosing its own outfits and accessories! Have a cool yule with this adorable Christmas outfit for your furry friend! This blue and red sweater and scarf set is specially made for four-legged stuffed animals and features a festive Christmas lights pattern. Red Canvas High-Tops Lace up your furry friend's shoes and get to walking! These classic red canvas high-tops for stuffed animals look great on any furry friend's paws.
Get $5 off a purchase of $25 or more with code BEARYMERRY at buildabear.com or at your nearest Workshop! Some exclusions apply, see full details at buildabear.com/offers.
Leading the Way: Women in Power book
What parent wouldn't want to inspire their young daughter to aim for leadership? This book is an awesome way to achieve that goal with real world examples of women who lead.
An accessible and engaging collection of biographies, spotlighting the careers of fifty American women in politics — and inspiring readers to make a difference. With a foreword by Hillary Rodham Clinton. Leading the Way: Women in Power highlights the actions, struggles, or accomplishments of more than 50 of the most influential women in American history, balanced between Democrats and Republicans and featuring women from a widely diverse variety of backgrounds who have stood up, blazed trails, and led the way. A timely reminder of the female political giants of the past in a year where female candidates from diverse backgrounds, are breaking records across the country.

*This post has been sponsored by Babbleboxx