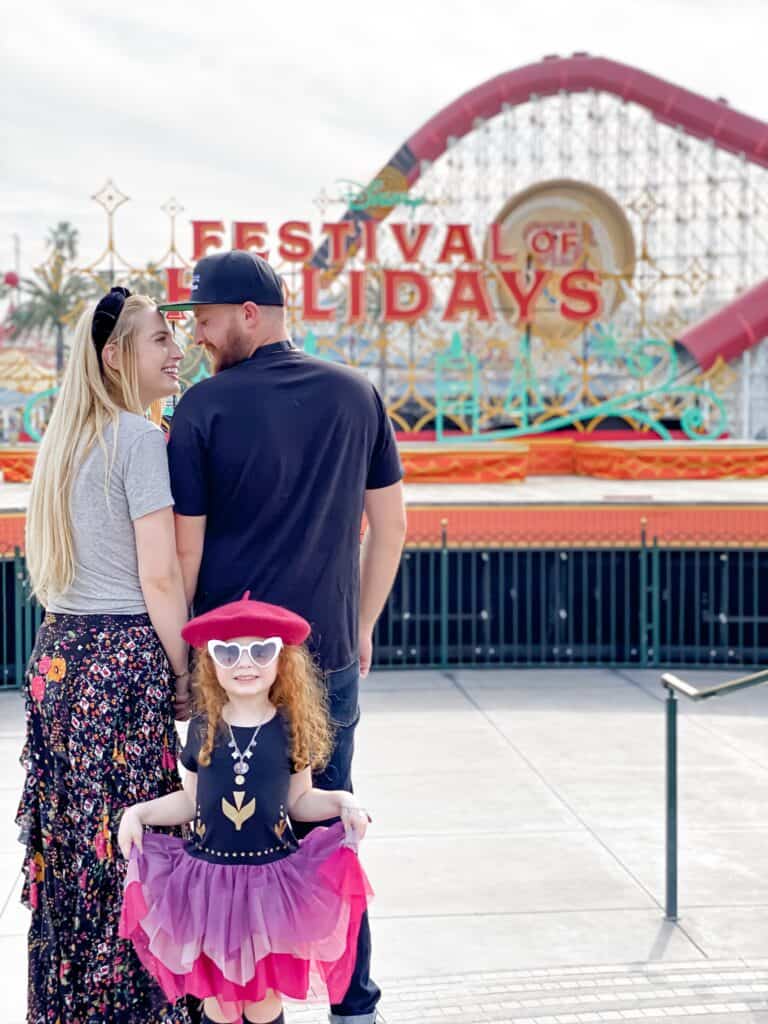 First of all, Disneyland is always special, like always. But something about Disneyland during the holidays is seriously dialed to 11. This week we spent an entire day just taking in all of the Holiday magic at California Adventure, and somehow I feel like we still just scratched the surface. Every nook and cranny of the park has tweaks and enhancements that make all of the difference. I couldn't possibly express in one blog post what all of my favorite things were, but I can at least tell you about some of the highlights and help you know where to start when you visit.
Number one on the must do list is the Holiday Sip and Savor pass. For just $49 (AP members, $55 non pass holders) you get 8 tickets that can be redeemed at a slew of the restaurants and carts in the park, as well as a whole bunch of dedicated pop ups. Each location has different holiday exclusive options from turkey and stuffing tamales, to curried cauliflower and chicken, and even special holiday churros, like the pecan pie one which we ate three of throughout the day. Between the two of us we had 16 tickets and it was so much fun trying classic and reimagined holiday favorites at every turn.
Next on the must do list is the special Holiday Shows! We are suckers for the performances put on in the park, and for Festival of Holidays they have even constructed extra stages in addition to the adorable Holiday themed parades. We watched the Diwali performance while eating curry from one of the Holiday Pop Ups and had an absolute blast.
The icing on the cake for the Holidays at California Adventure has to be the World of Color show. We adore the regular version of the show all year long, but guys, they changed the whole thing for Festival of Holidays. And. It's. Incredible. Seriously it was one of the most special shows I've ever seen at Disney. We even saved our last Sip and Savor ticket to get a Hot Blueberry Apple Cider to enjoy with the show and the whole experience couldn't have been better. If you already love the World of Color show, you need to see this version. If you've never seen it before, now is the time. It's seriously so good.
XO, CELESTE WRIGHT
*Thank you to Disneyland for hosting us.