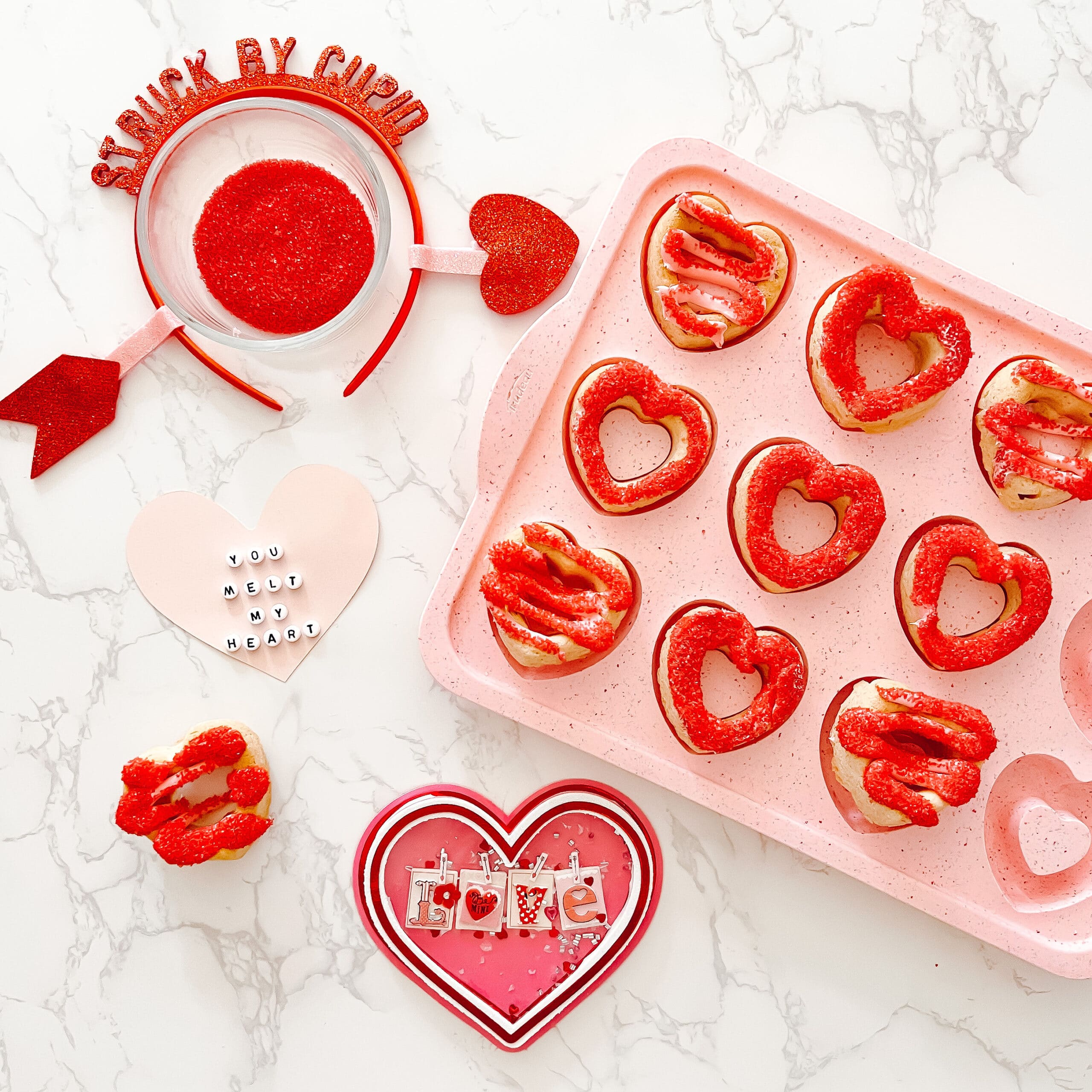 There's something about baking that makes you feel all warm and fuzzy inside. Whether it's the smells wafting from the kitchen, or the memories that come flooding back from your own childhood experiences baking with someone you love. I love baking, and I especially love baking for others. Knowing that I was able to bring that joy of receiving a delightful treat to someone else makes me feel amazing. 
It's especially fun to bake around different holidays because you can get even more creative and have so much fun coming up with unique ideas! What better holiday is there to bake fun desserts than Valentine's Day? All the hearts, pinks and reds, and LOVE everywhere!
If you've been searching for a super fun and delicious Valentine's Day treat to make you need not look further! These adorable little heart shaped donuts are delicious and such a fun activity to do with your little ones! They also make for sweet treats for anyone on your V-Day list! Teachers, friends, class parties, you name it!
These heart shaped molds make for quick, easy, and perfect little treats that create very little mess. Your kids will love to help, especially when it comes to adding the sprinkles! Who wouldn't, right?! We all know how excited the littles get to bring their Valentines to school to share with all of their little friends, and I can't think of a cuter treat to go along with them! Especially knowing that they were made with love.
Forget the store bought candy and gift the teachers in your kid's lives with homemade, fresh, mouthwatering donuts. It will mean much more and also be a unique and fun change from the typical Valentine's treats. 
There are so many ways to make your them your own by adding all sorts of fun toppings! Different colored sprinkles, delicious chocolate drizzle, the sky's the limit! Whether you're making them yourself, or helping your kids make them, it can be such a creative way to show off your skills. 
I hope you enjoy making these as much as I did, and I hope you have a Happy Valentine's Day with those you love!
If you have any questions about Heart Shaped Donuts
leave them in the comments below.
XO, CELESTE WRIGHT