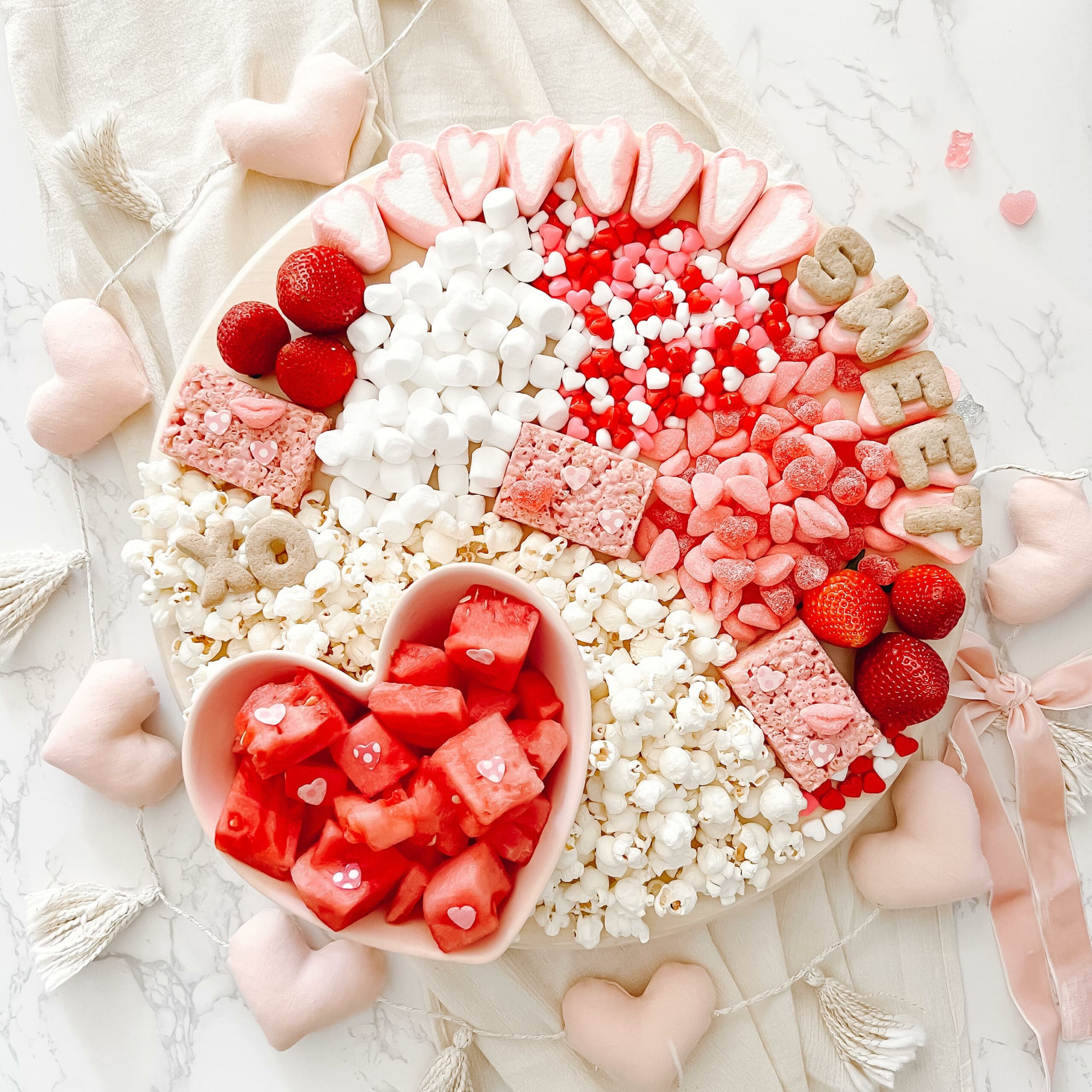 Everyone is obsessed with charcuterie boards lately and I'm HERE for it! They're the hot thing right now and honestly, how could you not love them? Charcuterie boards can be created with just about anything which makes it one of the most versatile spreads there is, especially for those who may have dietary restrictions. You can tailor them to whatever needs you or those you are making it for has! Plus, they can be very aesthetically pleasing to look at!
This Valentine's Day Charcuterie Board was such a fun one to make! With all of the cute gummies, marshmallows, fresh fruit, popcorn and more, everyone will be able to find something to snack on that they love! It turned out to be a gorgeous display of all things "love" and is the perfect snack for your Valentine's Day festivities! 
I think it's so great to be able to make something so delicious, and beautiful at the same time, to share with those you love so much. Whether you need to take a treat to a class party, work party, or even to have as a surprise for your kids when they get home from school, this charcuterie board is perfect for all of those! What better display to come home to after a day at school than this, especially when the first thing Lila wants when she gets home is a snack! Something about all that learning makes for some hungry tummies. 
This spread was super easy to put together and also required minimal preparation, which can be super important with our busy schedules! I also love that it's a good mix of sweet, fresh, and light treats that won't weigh you down, especially for the kids who will likely end up having a ton of sugary treats at school! It's a great way to sneak some fruit in while still keeping the day fun and exciting. 
So make sure to try out this Valentine's Day Charcuterie Board for heart day! It will be a hit, I'm sure of it, and you will "wow" everyone with your sweet sweet skills!
If you have any questions about 

How To Make A Valentine's Day Snack Board 

leave them in the comments below.
XO, CELESTE WRIGHT