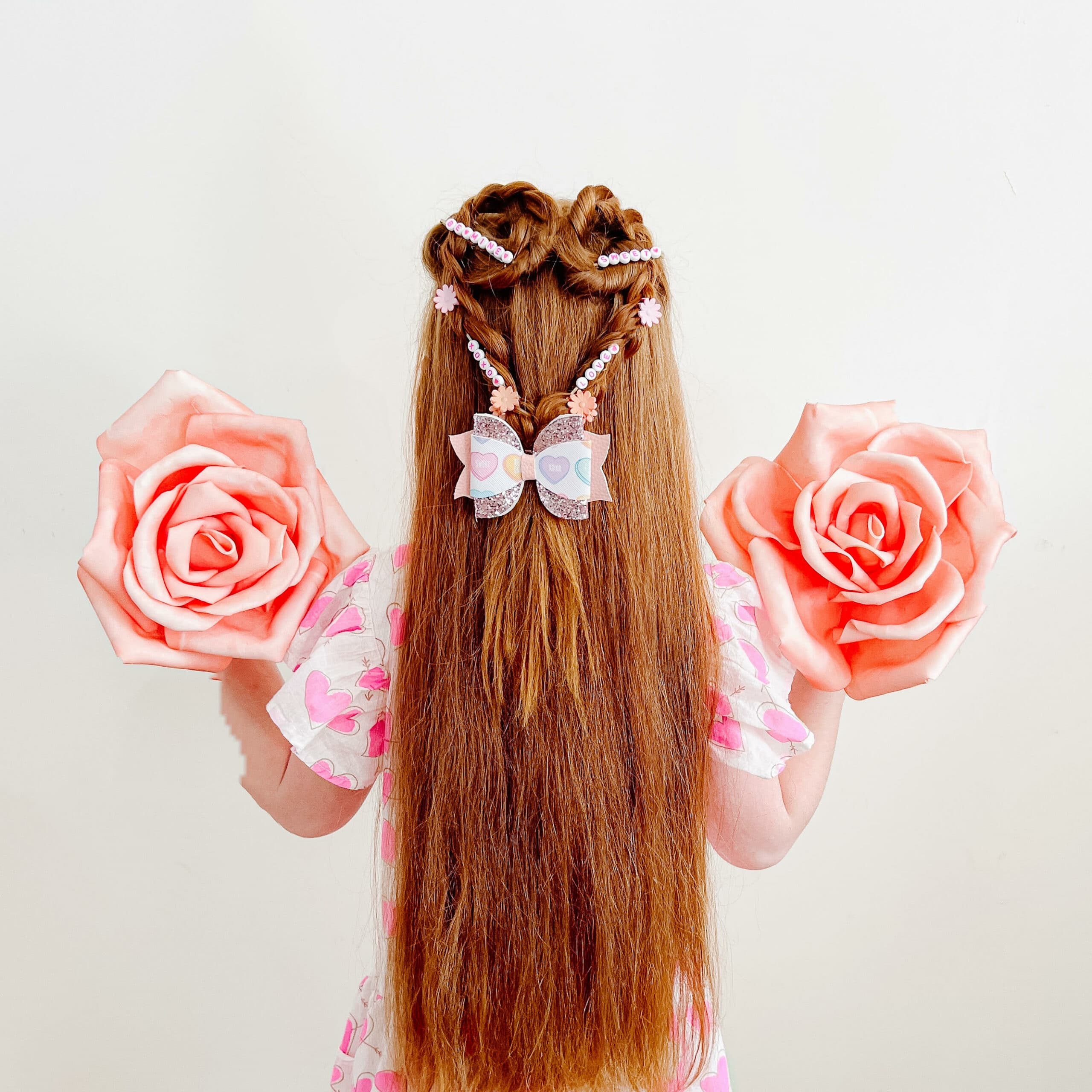 What's one of the best parts of having a daughter you ask? Doing her hair of course! Lila's gorgeous long locks make it so much fun to play with and come up with new designs. With Valentine's Day coming up so soon, we thought it would be fun to try out a heart braid! After all, love is in the HAIR! 
Valentine's Day is one of our favorite holidays! How could you not love a holiday that is all about showing your love to others especially when it includes hearts, and everything pink & red! It's one of my favorites to decorate for, and what a better way to spread the love than bringing it everywhere with you with this adorable heart braid?!
This heart braid was SO easy to do that you'll be able to fool everyone into thinking you're a pro! It adds some dimension and really makes her hair pop! Add some cute clips plus a pretty bow and voila, you have the perfect Valentine's Day hair! Even though it may look complicated, it's actually so simple and quick!
I know that these days of her letting me play with her hair won't last forever, so I'm soaking it all in as much as I can! It's always fun spending that time together talking with her and bonding. It's a special time that we share together just the two of us with no other distractions. Plus, Lila loves having her hair played with, I mean, who doesn't?!
I love being able to get creative when it comes to different hairstyles especially during different holidays! It makes that day even more special for Lila, and helps her really feel like it's a special day instead of just another ordinary one. Just like as adults we like to get extra dolled up for special occasions, so do our kids!
So next time you're feeling like you are in a rut and are wanting to spice things up a bit, try this heart braid out on your little one! She'll feel like a princess and be so grateful you put in that extra effort to help her feel even more beautiful than she already is! 
If you have any questions about 

How To Make A Cute Valentine's Day Heart Braid 

leave them in the comments below.
XO, CELESTE WRIGHT