Hi Everybody!
This week I am doing something I truly don't ever think I have done before. Well, not on purpose anyways. I am meal planning everything we eat from dinners, to snacks, and of course desserts. I made a checklist yesterday morning of all of the ingredients I would need to make it through the week. My the evening we went as family to the grocery store and purchased everything on the list.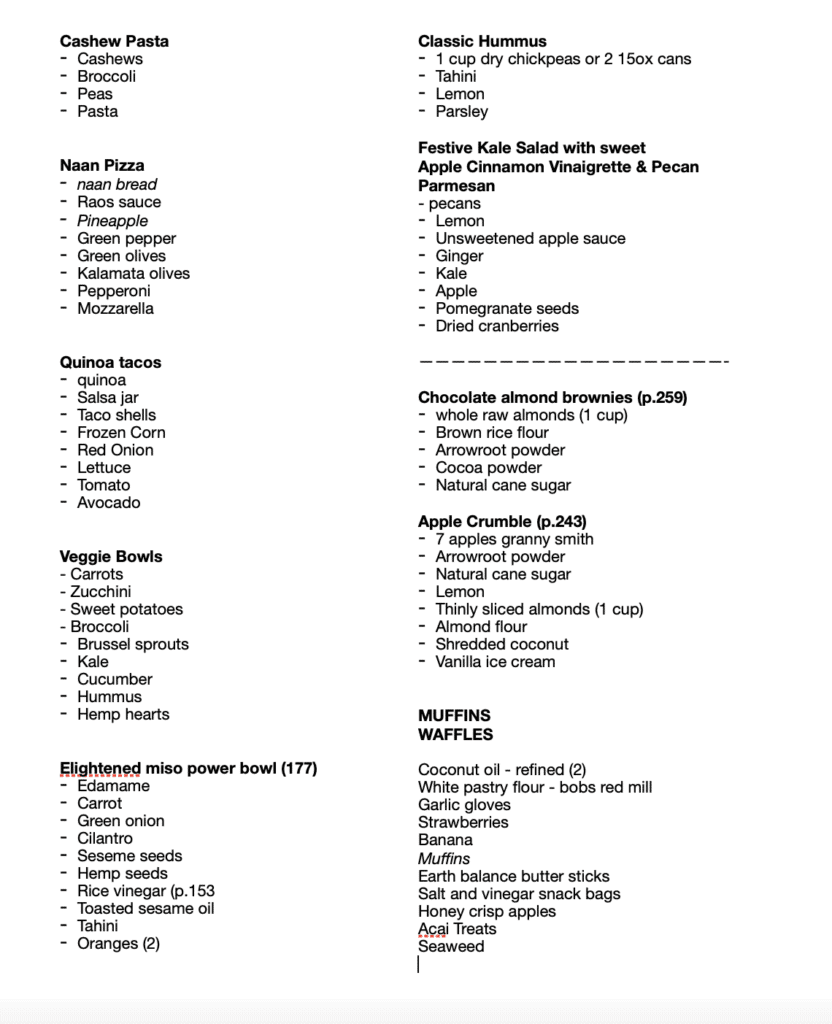 I printed out this list 2 times. I took the first with me to the grocery store and crossed off item by item as I put it in the cart. Then when I put the second list on my refrigerator so I knew exactly what I had purchased for each recipe.
The first thing I made was Lila's muffins for the week. She eats 2 mini muffins every day for breakfast. I used to buy them from Whole Foods but ever since I made Larissa's recipe the first time Lila insists that I make them. I think it's sweet and I actually love making them for her. The recipe that we use can be found here:
THE EASIEST VEGAN MUFFINS by Living In Color Blog
I have few modifications that I have made to the recipe. These make a difference to my 5 year old so I them but please check out her original recipe because it is so so good.
Mini Vegan Chocolate Chip Muffins
1 cup unsweetened almond milk
1.5 tsp apple cider vinegar
2 cups Bob's Red Mill whole wheat pastry flour
2 tsp baking powder
1/4 tsp baking soda
1/4 tsp pink salt
1/2 cup Big Tree Farms vanilla coconut sugar
1 tsp vanilla extract
1/4 cup melted coconut oil
3/4 cup Enjoy Life mini chips – semi sweet
Preheat oven to 375 degrees

Brush melted coconut oil all over pan

Using your kitchen aid mixer bowl, add ingredients into bowl in order as the appear above

Mix batter on high until it looks well blended (usually 1 minute)

Use an ice cream scooper to scoop the dough into the muffin pan

Bake at 375 for 10 minutes. Let cool for an additional 10 minutes on cooling rack.
—
—
—
Daily
For breakfast Lila usually has 2 mini muffins and I have my protein shake. I like to have a protein shake instead of lunch because it fills me up and leaves my body feeling its best until dinner.
—
Orgain Organic Plant Based Meal Replacement Powder
—
BlenderBottle Classic Loop Top Shaker Bottle
—
Next we take our vitamins. We switched brands recently and are halfway through our bottles. Lila absolutely loves hers! She gets so excited to take them every day and up until now it has been a chore to get her to eat even a bite of one. I switched to a liquid and I really like it so far.
—
Vegan Kids Multivitamin Gummies by MaryRuth
—
Daily Liquid Vegan Multivitamin by MaryRuth
—
Monday
Classic Hummus
Veggie Bowls
Apple Crumble
Jake got home around 2 o'clock today just as I was finishing school with Lila. We like to eat dinner around 4 o'clock these days, so I gave him the grocery list and told him to pick what he wanted for dinner and dessert today. He picked Veggie Bowls & Apple Crumble for dessert.
The first thing I made was the hummus. I have never made hummus before so of course I was nervous. I followed the recipe exactly and hoped for the best. To my surprise- I loved it! I am so happy with how it turned out and I cant wait to make it again tweaking things here and there making it my own. I used the recipe from the Oh She Glows Cookbook.
I used the recipe called Classic Hummus. It is also on her blog for no cost at all if you would like the recipe I will link it, here. Can you believe this post was from 10 years ago?!
After the hummus was made I started prepping for the bowls.
Veggie Bowls
2 carrots (peeled and cut into quarters)
1 sweet potato (peeled and cut into slices)
1 bushel of asparagus
1 zucchini
10 brussel sprouts
2 cups Israeli couscous
1 tbsp hemp seeds
1/2 cup hummus
1 lemon (juiced)
salt & pepper
Preheat the oven to 425

Roast all veggies for 45 minutes

Cook couscous while veggies are roasting. Let it cool completely before serving.

Let veggies cool and then begin assembling bowls.

Put 1 cup of couscous in each bowl, drizzling with lemon juice. Next pile on desired veggies, a large spoonful of hummes, and sprinkle on hemp seeds.

Salt and pepper to taste.
I loved that we got to use homemade hummus because it made it taste 10x's better than normal. You can also use whatever veggies you want. Just adjust how you cook them. 🙂
Next is the fun part- dessert! Jake was so excited I was going to make Apple Crumble. It's his love language. I used a recipe from the Oh She Glows Cookbook. It is not only vegan but also gluten free. I could not find this recipe to share with you anywhere online. However I did have a few changes in mind for next time so once I have modified it I will share my recipe with you all.
The ice cream we used was Nada Moo! Organic in flavor Vanilla…Ahhh
Ran to the store for coffee. Right now I am drinking the Starbucks Blonde Roast Unsweetened. I drink about 12 oz black over ice every morning.
—
Tuesday
Around 2pm today I made Lila a snack of her vitamins, Annie's Homegrown chocolate chip graham cracker bunnies, and organic strawberries.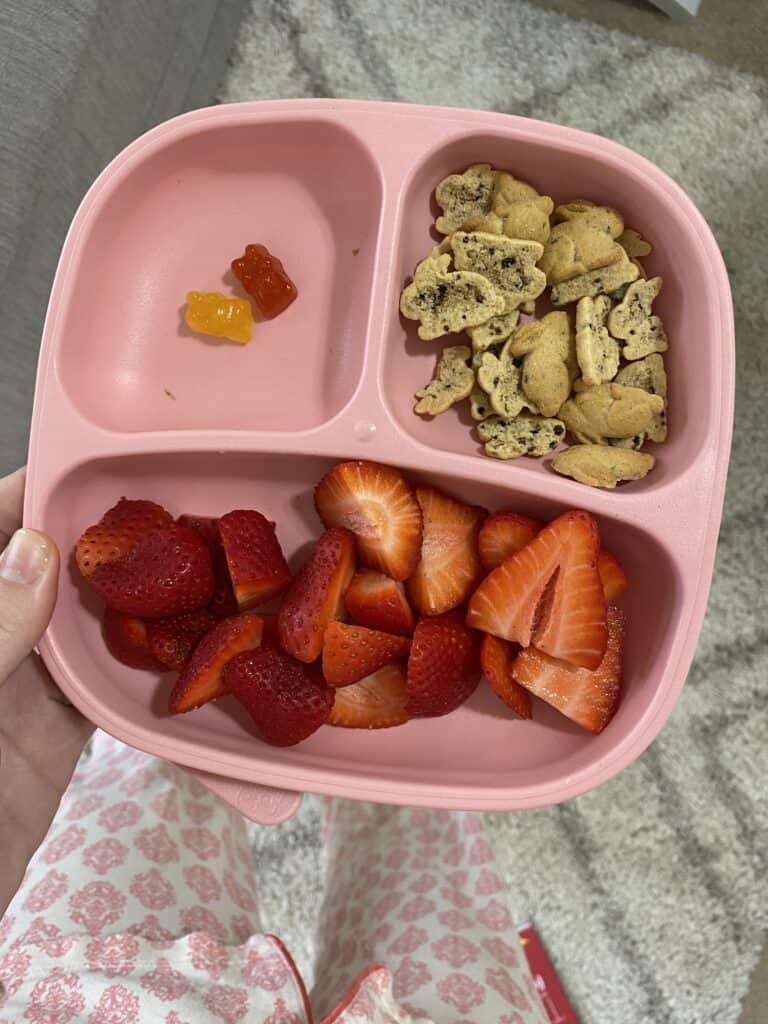 For lunch I made her a pizza. I use the Naan Bread from Whole Foods, drizzle olive oil all over, then add Marinara sauce from RAO's. Bake in the oven at 400 degrees for 9 minutes.
XO, CELESTE WRIGHT