*Thank you to Babbleboxx for sponsoring this post
Anybody else have the hardest time shopping for their husbands? Somehow the longer I'm with Jake the harder it becomes to think of thinks he'll want and actually use.
The Men's Trends Box they sent for Jake is amazing, and he has already found an opportunity to use everything in it.
—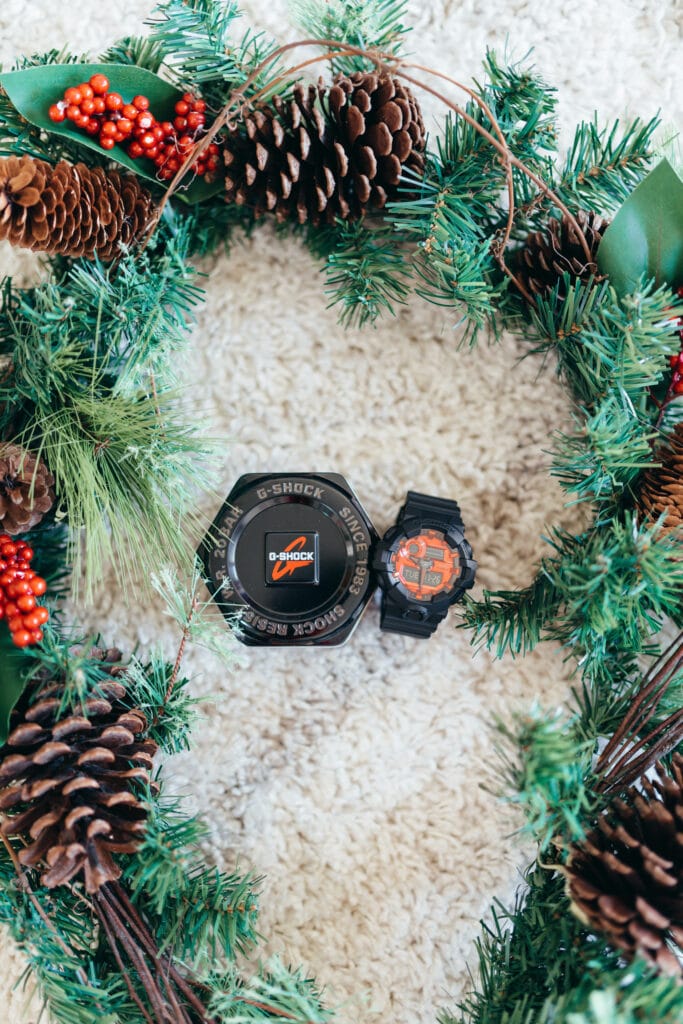 G-SHOCK Adrenalin Red Series GA700AR-1A from Casio
When we were dating I bought Jake a G-SHOCK watch for our first Christmas together and he still has it, although it's bright yellow so he doesn't wear it as often as he once did. Receiving the Adrenalin Red Series watch brought back a lot of memories and I don't think he's taken it off since receiving it. It's perfect for a guy like him who spends a lot of time up in the mountains but also get's dragged along and dressed up for a lot of events and parties with me.
The GA700AR-1A is part of G-SHOCK's new Adrenalin Red Series, featuring the GA700 analog- digital case shape with a black band and metallic red dial. The bold case silhouette features a 3D dial and hands for a multi-dimensional, carved out of metal look. The GA700AR-1A includes G- SHOCK technology of shock resistance, 200M water resistance, Super LED Light, World Time, Daily Alarms, Countdown Timer, Stopwatch, and more.
Features include shock resistance, 200M water resistance, Super LED Light, World Time, Daily Alarms, Countdown Timer, Stopwatch, and more. The timepiece's durable resin band in black with the bold, metallic red dial is a complimentary accessory for a variety of styles. Style and functionality combine in a tough timepiece that is built to last.
—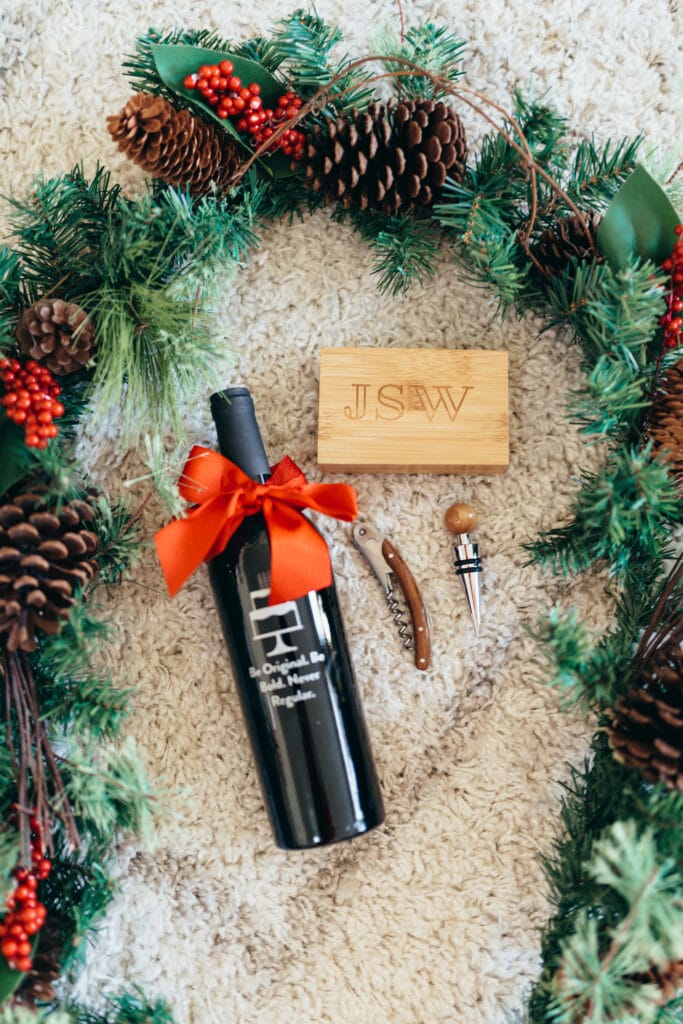 Engraved Bamboo Wine Tool Set & Personalized Wine Bottle from GiftTree
So Jake doesn't drink, but boy can he cook. I wasn't sure he'd use the wine but he was actually really excited about it and has already incorporated it into a few great recipes, so I guess you could say this was a gift for me too!
Personalized Wine Bottle: One of their bestselling business gifts, a bottle of bold California red wine is sandblasted with your choice of five different popular themes along with your personalized message. An elegant gift box and complimentary card complete the presentation.
Since Jake doesn't drink he didn't have a set of wine tools, but now that he has been cooking with wine this set is going to come in handy.
Engraved Bamboo Wine Tool Set: No wine-lover's home bar is complete without a sturdy set of wine tools, and this uniform set is a perfect gift. A stainless-steel corkscrew and heavy wine stopper are neatly presented in a bamboo box with magnetic closure. Complimentary engraving of your chosen initials is included!
—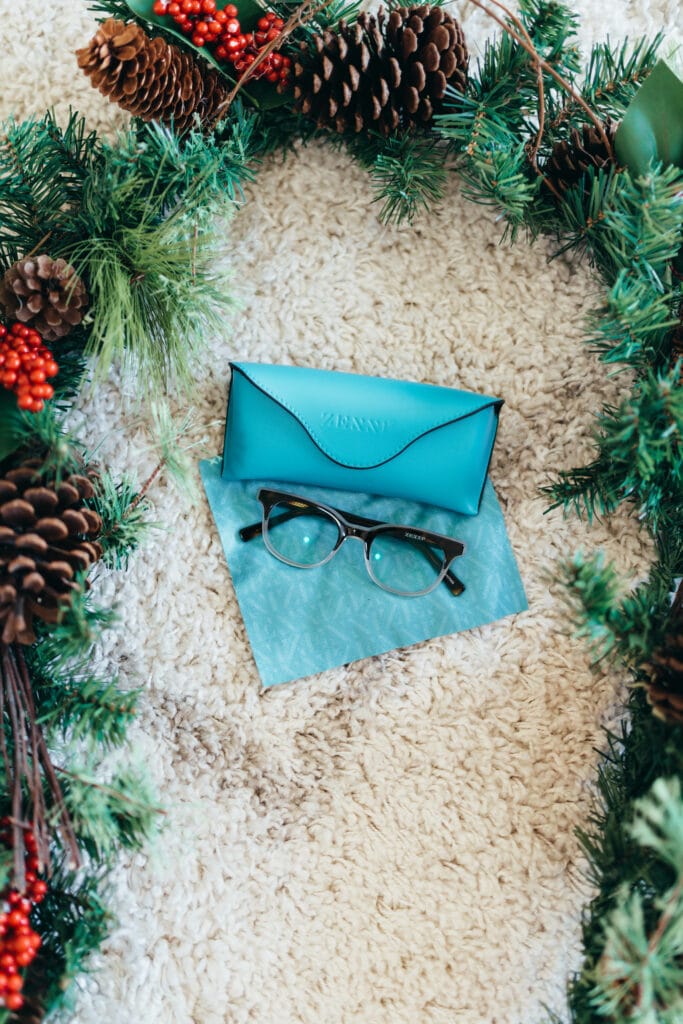 Eyewear from Zenni
Is it bad that I kind of wish Jake actually needed glasses because he looks so ridiculously cute in them? He's been wearing his Zenni glasses like crazy because they're really comfortable, look amazing, and he's been getting compliments every time he does. So keep up the compliments people, because I like it.
Bridgeless Round Glasses – These fashion-forward round glasses feature a bridgeless design with a modern brow bar.
Each pair includes spring hinges and adjustable nose pads to provide a comfortable fit. Any pair of Zenni frames can be made with your specific prescription or with tinted lenses to be worn as sunglasses
—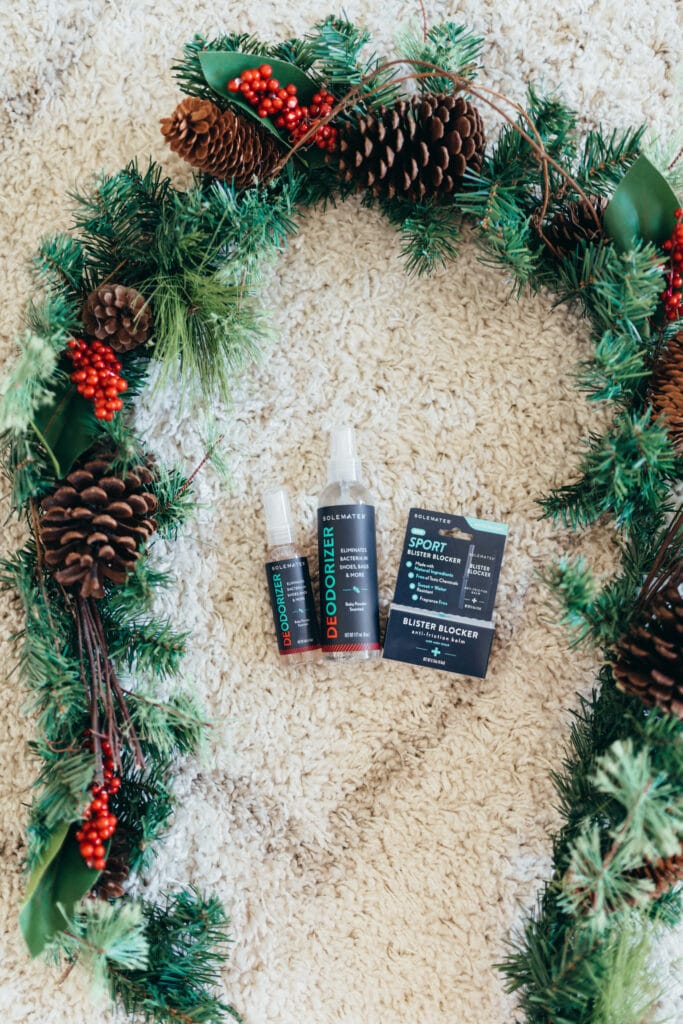 Blister Blocker SPORT & Deodorizer from Solemates
As I mentioned, Jake is kind of a mountain man a lot of the time. He'll spend an entire day hiking or trail running which is not easy on his feet. The Blister Blocker Sport and Deodorizer are going to make so much difference. Plus I'll appreciate that his shoes won't smell so bad when he leaves them out and I have to take them to his closet.
Blister Blocker SPORT prevents blisters that form from long-wear or intense use running shoes, hiking boots, ski boots, tennis shoes, cycling shoes, and more. The all-natural balm also works on hands, shoulders and chests – anywhere where friction might occur. By applying a thin layer to whatever area feels raw, you can protect your skin from friction born blisters and remain comfortable and confident to compete at your highest level.
Active ingredient: Zinc Rincinoleate, naturally prevents odor from forming on your feet. Free From: Artificial Dyes, Silicones, Parabens /Phthlates, Perfumes/Fragrance, and Animal Testing (Cruelty Free)
Solemates Deodorizer Dries quickly and removes gross odors in shoes. Is baby powder scented and made with natural ingredients and without harsh chemicals. It leaves feet feeling cool & refreshed and it simple to apply. Just spray directly into shoe before or after wearing. Fantastic for shoes that are worn without socks. Amazing for all shoes including boots, cleats & sneakers. Produced in a solar-powered facility in southern California. Free From: Artificial Dyes, Silicones, Parabens /Phthlates, Perfumes/Fragrance, and Animal Testing (Cruelty Free).
Special Discount Code: Babble20 – Expires 12/21 for 20% off site wide
—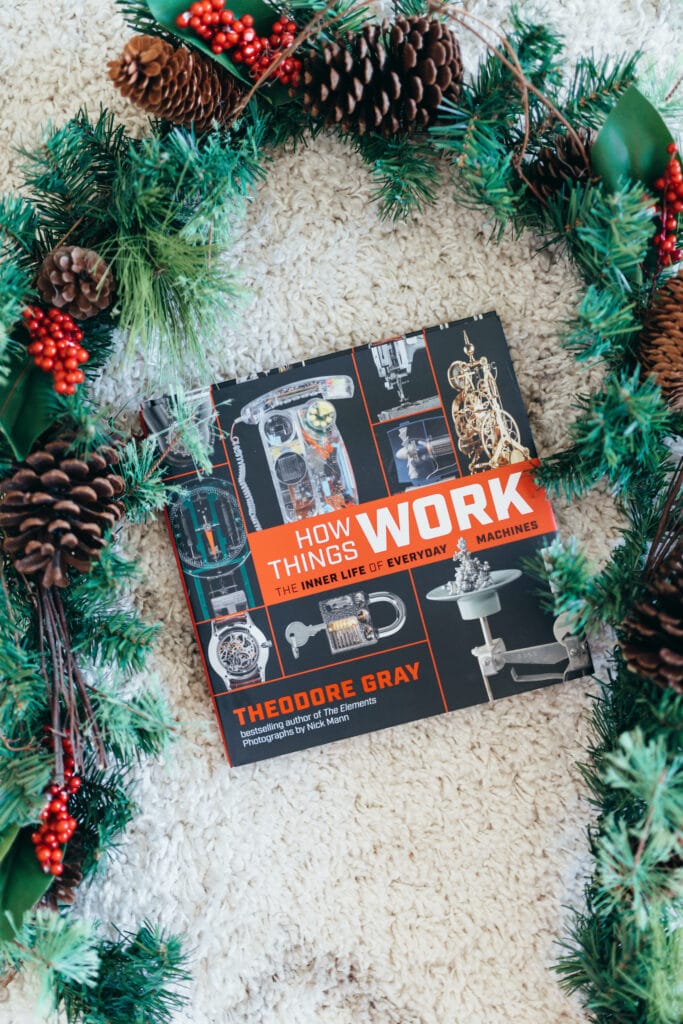 HOW THINGS WORK: The Inner Life of Everyday Machines
Sometimes I wonder how it's possible that Jake remembers so many little factoids and statistics, well, it's because he loves books like these. How Things Work is the perfect book to have lying on the coffee table for a technically minded guy like him to dive into and keep learning.
HOW THINGS WORK The Inner Life of Everyday Machines, million-copy bestselling author of The Elements, Molecules, and Reactions Theodore Gray applies his trademark mix of engaging stories, real-time experiments, and stunning photography to the inner workings of machines, big and small, revealing the extraordinary science, beauty, and rich history of everyday things. Eye-opening and stunning, entertaining and educational, witty and wow-filled, HOW THINGS WORK is perfect for the maker or tinkerer in your life.
Gray's witty, engaging text and photographs are perfect for science fans and makers of all ages. Gray's completist approach brings not only the machines we see every day to life but explores the evolution of how we work with them. Theo's collaborator, Nick Mann, has outdone himself with expert detailed photos of transparent models that increase the wow factor while demystifying how things work.
—
Shoes from Samuel Hubbard
Jake has worked several jobs that required slacks and dress shoes every day, so he has grown very particular about dress shoes and refuses to wear any that hurt his feet or don't fit his style. This pair from Samuel Hubbard has already made it onto his feet for church and he's even put them on with jeans and chinos, something I've never seen him do with dress shoes before.
Market Cap This is a favorite in their Go to Work Collection as it works so well with both dress slacks and blue jeans.
The shoe is built on the Hubbard Vibram sole and your foot is cradled inside the shoe by our triple-density insole that includes a full-length Poron memory foam footbed and is covered in vegetable-tanned leather which is the healthiest material for your feet to stand on. The smart cap toe design is distinguished by very fine broguing.
—
So in short, if like me you struggle with gifts for the man in your life, I hope this guide helps, because it genuinely made my life so much easier this season.
XO, CELESTE WRIGHT
—
*Thank you to Babbleboxx for sponsoring this post