Last week we checked one of our New Years Resolutions boxes and got out to the mountains! Since we visited Lake Arrowhead just before Christmas, we have been itching to go back ever since. Since last time felt so short we thought it would be fun to make a weekend trip out of it. We noticed a local resort our way home and it looked straight of a Hallmark movie. I looked it up online and it was even more perfect inside its' walls. I knew we HAD to stay there.
When we arrived at the hotel I made a joke to my husband that I wished there was a Christmas tree in the lobby. To my complete surprise there was a gorgeous Christmas tree right when we walked in. It was absolutely magical and it put me right at peace. Next to the tree was a display for Santa's Village. If you haven't heard of Santa's Village, it is a must do while in Lake Arrowhead.
My husband checked us in while Lila and I waited in their gorgeous lobby area. Lila was distracted by their piano and I we we were so happy just to sit and watch the people walk by. That morning Lila woke up not feeling well, so the whole day I felt like we were going so slow to make sure she didn't overdo it. She enjoyed the views and the mountain air and I so did I.
Once we had our room key we went up the elevator to find our room. The room was perfectly decorated for a mountain vacation. I snuggled with Lila in the bed while my husband unpacked our bags. We enjoyed a fruit bowl which lifted both of our spirits and after some relaxing it was time to explore the resort.
There was so much to see right away. We went outside and because of the time of day the lake was perfectly lit. We walked along the hotel pool and the air was so crisp and fresh. We saw lots of birds flying over us and it felt like we many hours away from Los Angeles, not just 90 minutes.
After a very short exploring session Lila asked to go back inside the resort. She really wasn't feeling well but was trying to be brave for the sake of the excitement of being at the hotel.
For dinner we found ourselves at the resort's on-site restaurant BIN189. We got a corner table next to the windows and had the most beautiful of the lake at sunset. It was so dreamy! I ordered a hummus, pita, and olives appetizer that was amazing! Jake ordered a filet and he praised it as one of the best he had ever had. Lila enjoyed bites of kid's meal but mostly just wanted me to hold her. I ordered a coffee to go and I took Lila up to the room. The staff was so nice to her and trying to make her smile. It was very sweet and the three of us appreciated how kind and lovely everyone was towards us.
When we got back to the room Lila fell asleep for the night at 6:30pm. That's how you know she wasn't feeling well because normally girlfriend is up all night ready to party. Jake and I got to relax, watch tv, and talk. It is not often we get time to ourselves so even though I wished we were out exploring as a family, it was an absolutely lovely evening.
The next morning Lila woke up feeling much worse than the day before so we made a hard choice and decided to take her home. There were so many things on our list to do that we didn't get to do, but I am so grateful at the opportunity to stay at this dreamy resort. First and foremost I wanted to get my baby feeling better. It is very rare that she gets sick, so I didn't have much experience in how to help her cope during our trip.
Now that we are back home and have our health I am already dreaming about our next stay! Below I have put together everything about making your stay at Lake Arrowhead Resort and Spa as perfect as can be!
—
WHERE TO EAT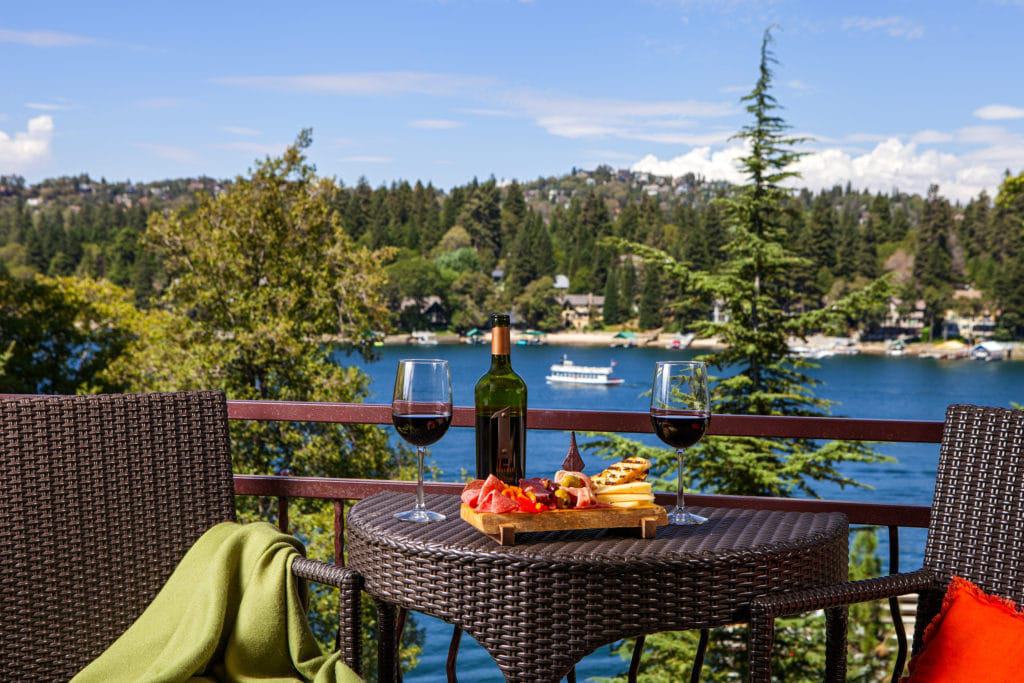 BREAKFAST AT THE LAKE ARROWHEAD RESORT
Breakfast at the resort is a sweet and savory affair. Crunch into the cornmeal-crusted, fried French toast with fruit and syrup or try the Cajun chicken and waffles with jalapeno-infused syrup.
BREAKFAST AT BELGIAN WAFFLE WORKS This lakeside patio is a breakfast favorite with waffles that run the gamut from savory – like the benedict Belgian – to sweet. If you aren't in the mood for one of their 17 signature waffle dishes, other breakfast options include biscuits and gravy or a "country breakfast" of two eggs your way, a protein of your choice, grilled potatoes, and a biscuit.  
DINNER AT BIN189 The resort's on-site restaurant offers fine dining in the form of creative dishes featuring fresh ingredients, like pasta adorned with foraged mushrooms, tomatoes, and baby kale to plancha-seared ruby trout with succotash and house-made chimichurri. Finish off the night with a specialty cocktail like the mango mojito or black cherry Manhattan.
LATE DINNER & DRINK AT THE LAKEFRONT TAP ROOM BAR
Located in the quaint European-style Village of Lake Arrowhead (within walking distance of the resort), this laid-back restaurant is known for three things: its amazing view of the lake (thanks to a wall of floor-to-ceiling windows); the best selection of burgers around, starring American Wagyu beef; and its broad beer selection with 34 beers on tap, plus another 42 bottled craft brews and IPAs.
ROOM SERVICE When you are not in the mood for doing anything but relaxing in your room, room service is the perfect option. Their menu has many options and the best part is eating from the comfort of your bed.
THE GRILL AT ANTLER'S INN Sushi at a steakhouse? While this quaint lodge-like restaurant located in nearby Twin Peaks features plenty of classic cuts, from filet mignon to rib eye, what it is best known for is its small sushi bar, open on Wednesdays through Sundays. Try their dragon roll made with crab, cucumber, and strawberries. 
Some Images and Text Courtesy Of Lake Arrowhead Resort and Spa
—

WHAT TO DO + WHAT'S NEARBY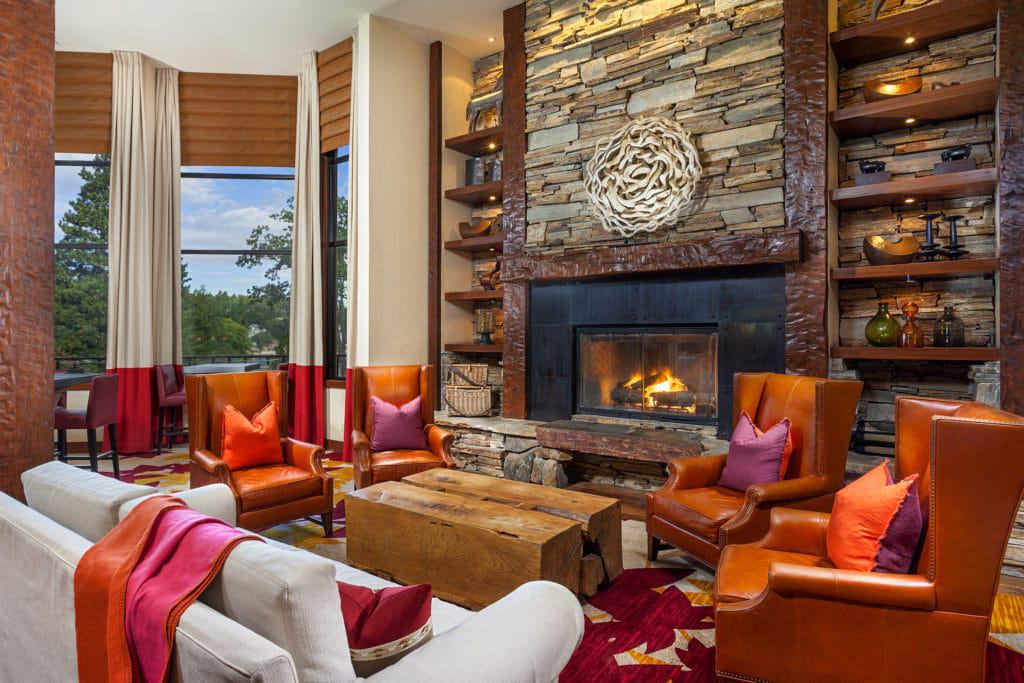 Lake Arrowhead Resort and Spa, Lake Arrowhead, California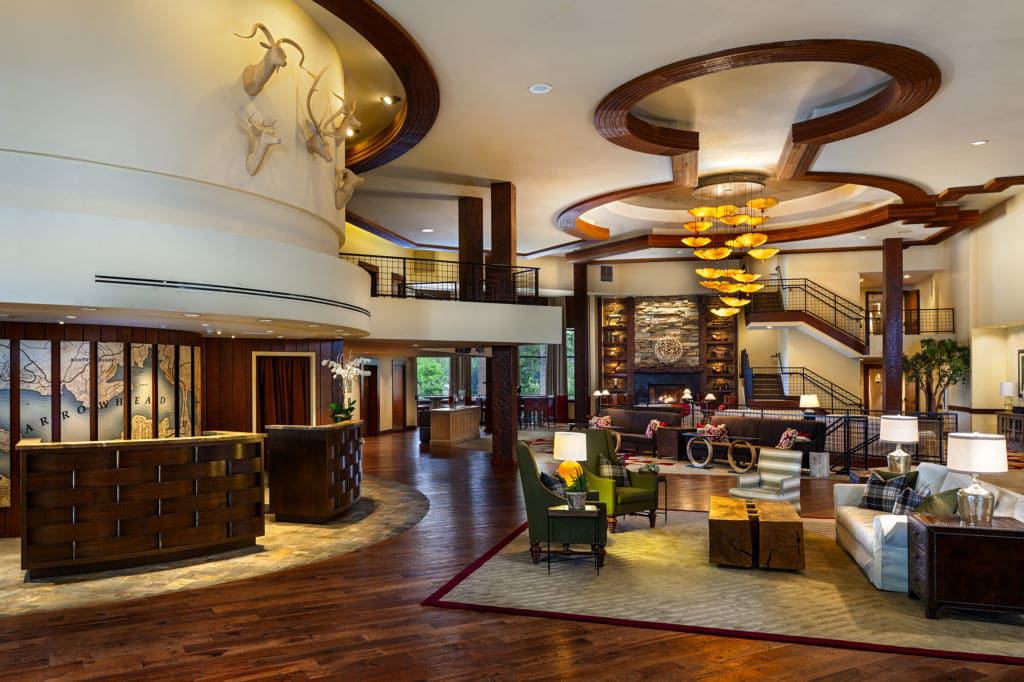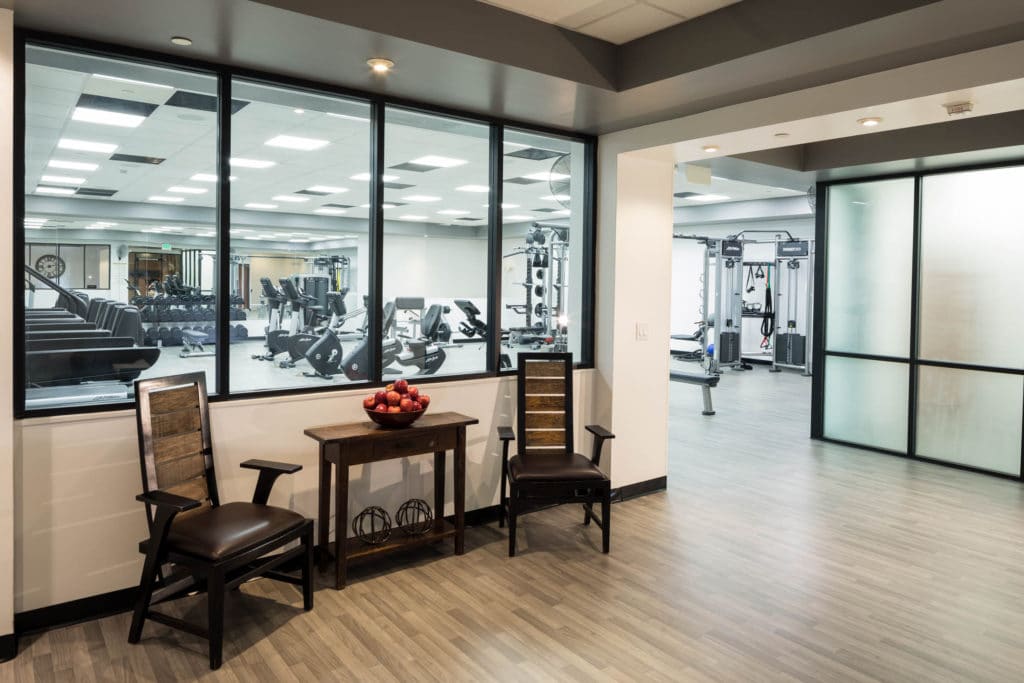 Some Images and Text Courtesy Of Lake Arrowhead Resort and Spa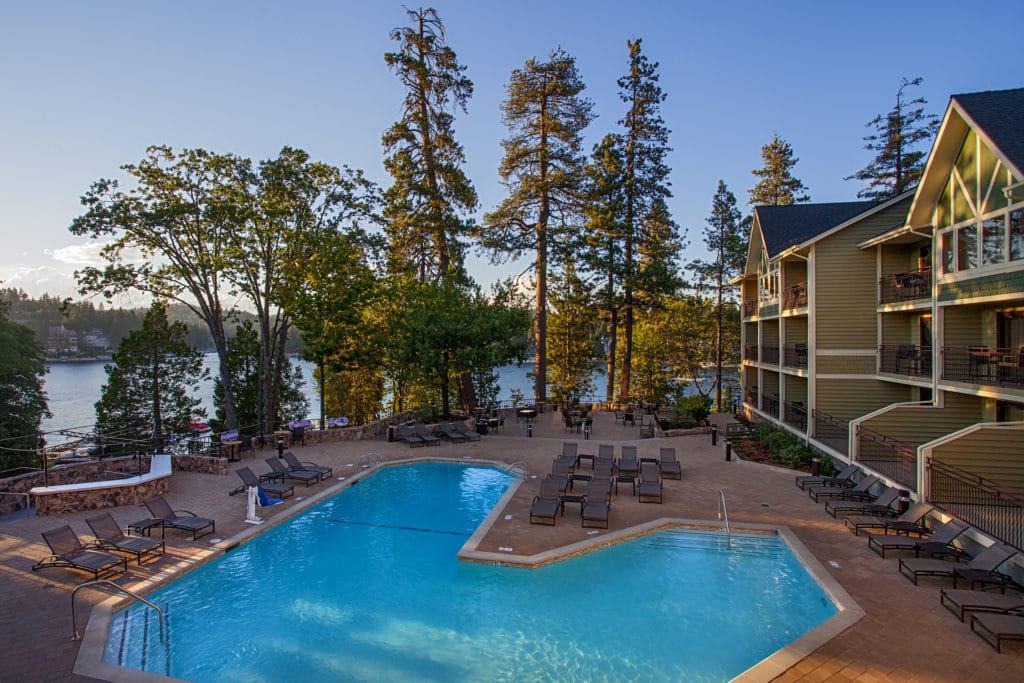 POOL Have you ever dreamed of swimming in a pool overlooking the lake? Well now you can. This gorgeous pool located in the resort is one of the most scenic views you could imagine while going for a refreshing dip.
FITNESS CENTER Located next to the spa is a world class fitness studio. Including aerobic and yoga classes, there is something for everyone looking to break a sweat.
SPA OF THE PINES The treatment menu at Spa of the Pines includes signature massages, rejuvenating facials, rehydrating body wraps and exfoliating scrubs. Treatments incorporate indigenous minerals and natural scents, from pine and sage to lilac and holly, to truly connect you to our special place.
MORNING STROLL ALONG THE SHORE
The Shore Trail begins off of Village Road and makes almost a complete loop around the lake before ending next to the Lake Arrowhead Resort – the perfect place from a morning stroll along the water.
MOUNTAIN HISTORY MUSEUM
Located in a charming yellow A-frame style building, this museum chronicles the story of Lake Arrowhead and the San Bernardino National Forest area. Exhibits depict the life of the Yuhaviatam Native Americans who inhabited the area for centuries before Spanish explorers arrived, the logging industry, and the famous old Hollywood movie stars who formerly occupied the palatial lodges along the lake in the early 1900s.
ANTIQUING AROUND
The triangle between Lake Arrowhead, Skyforest, and Twin Peaks is a hotbed of antiques, with 10 stores in the 30 combined square miles. Check out The Lake House, offering a gorgeous collection that includes everything from wooden pond yachts to decorative rugs, lighting, and furniture that would fit beautifully in any of the lakeside homes of the area.
TAKE A DIP AT AZTEC FALLS
This swimming hole is a part of the Deep Creek Canyon in the San Bernardino National Forest and a local favorite for both its sandy beach for sunbathing and easy entry into the water. There's also a 40-foot cliff for jumping for those looking for a little more adrenaline in their afternoon.
STARGAZING AT THE ROBERT BROWNLEE OBSERVATORY
Every Friday night into Saturday morning (from 11 p.m. to 2 a.m.), the Mountain Skies Astronomical Society that owns and operates this Lake Arrowhead observatory opens its doors to the public. The stargazing events include the use of the 16-inch Schmidt Cassegrain Telescope, which allows excellent viewing into deep space, and an on-site member to narrate your celestial journey.
HEART ROCK A favorite photo-op spot coveted by locals (and Instagrammers), Heart Rock is a geological anomaly that lies at the end of the half-mile Seeley Creek trail in Crestline, less than 10 miles from the resort. The perfectly heart-shaped pool was carved out of the rock by the Seeley Creek waterfall centuries ago. Now, the fall cascades into a different pool, creating the perfect backdrop for your heart rock photo. 
STRAWBERRY FIRE TOWER  To get an impressive view of the San Bernardino Valley without having to spend a full day hiking, head to this tower on the top of Strawberry Peak. Located off Highway 18, a two-mile paved road drops you right at the foot of the tower (an elevation of 6,135 feet). After just three stories of stairs up the 80-foot tower, you'll be greeted with an amazing vantage of the Inland Empire and its cities, as well as the surrounding mountains of Mount Baldy and Cucamonga Peak.
WILDHAVEN RANCH Don't expect a typical zoo experience at this wildlife sanctuary located in nearby Cedar Glen. In fact, in order to visit, you must make a reservation first. That's because the sanctuary's main priority isn't it's visitors but the animals themselves – all of which are indigenous to the San Bernardino area, many of whom were either orphaned or injured and wouldn't have survived without the sanctuary's intervention. You'll see all types of fauna from bears and bald eagles to deer and coyote, including Stubby, the tail-less resident raccoon.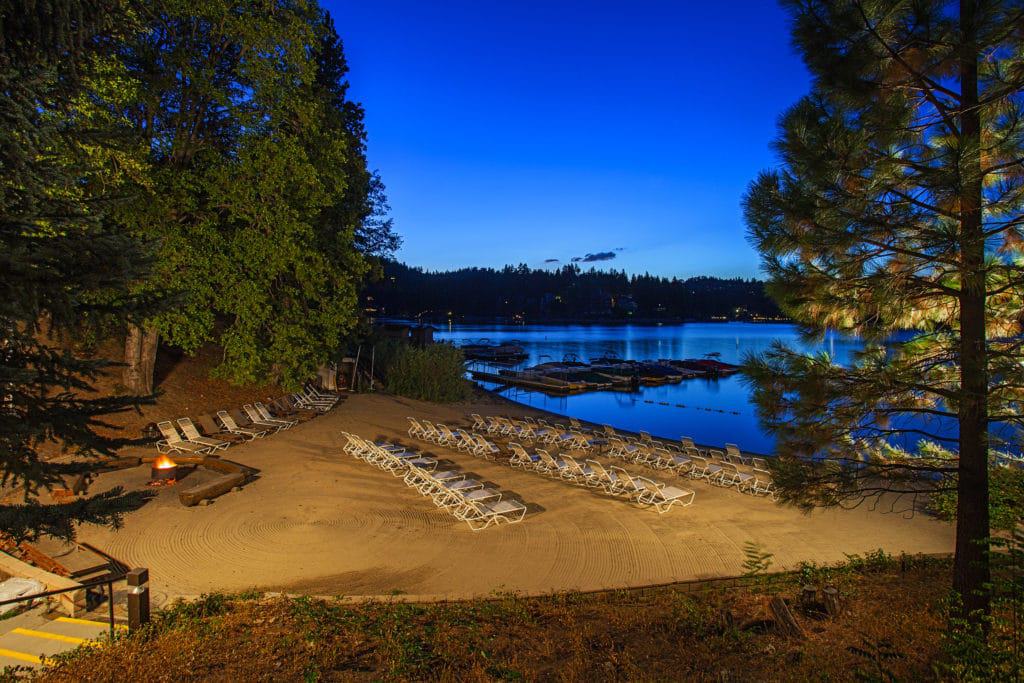 Some Images and Text Courtesy Of Lake Arrowhead Resort and Spa
—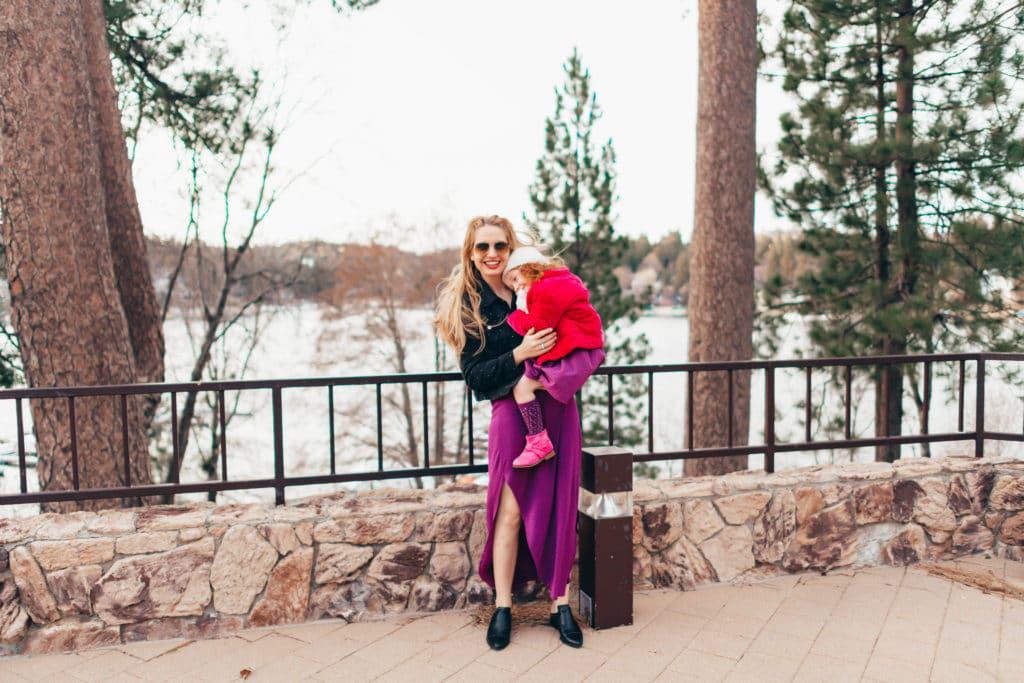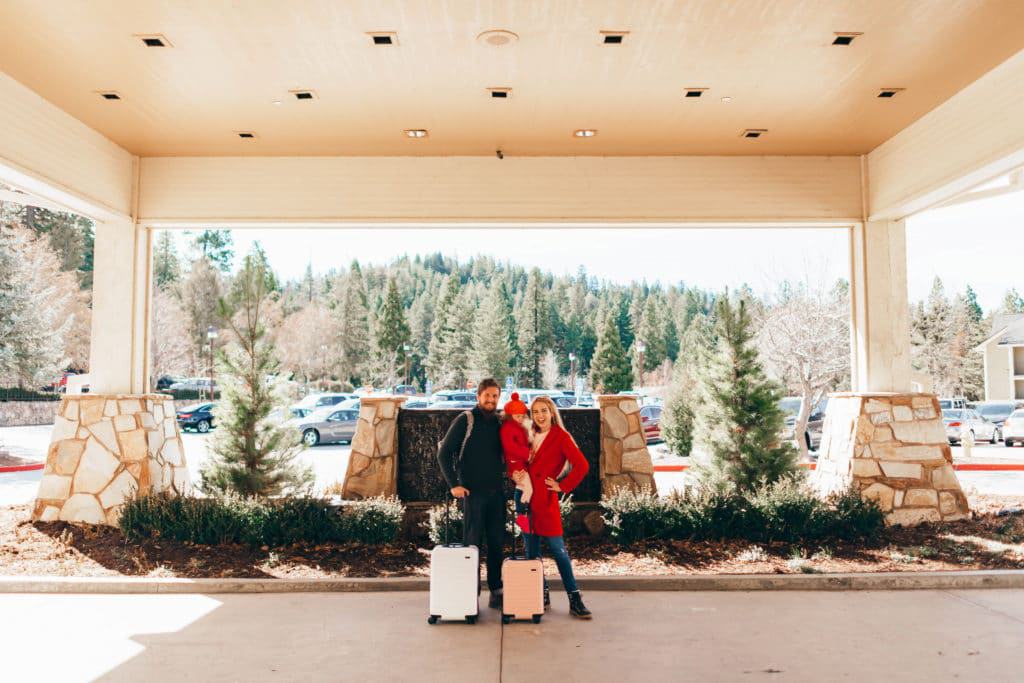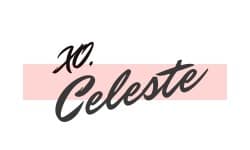 —
LIKE WHAT YOU SEE? SAVE IT FOR LATER ON YOUR FAVORITE PINTEREST BOARD.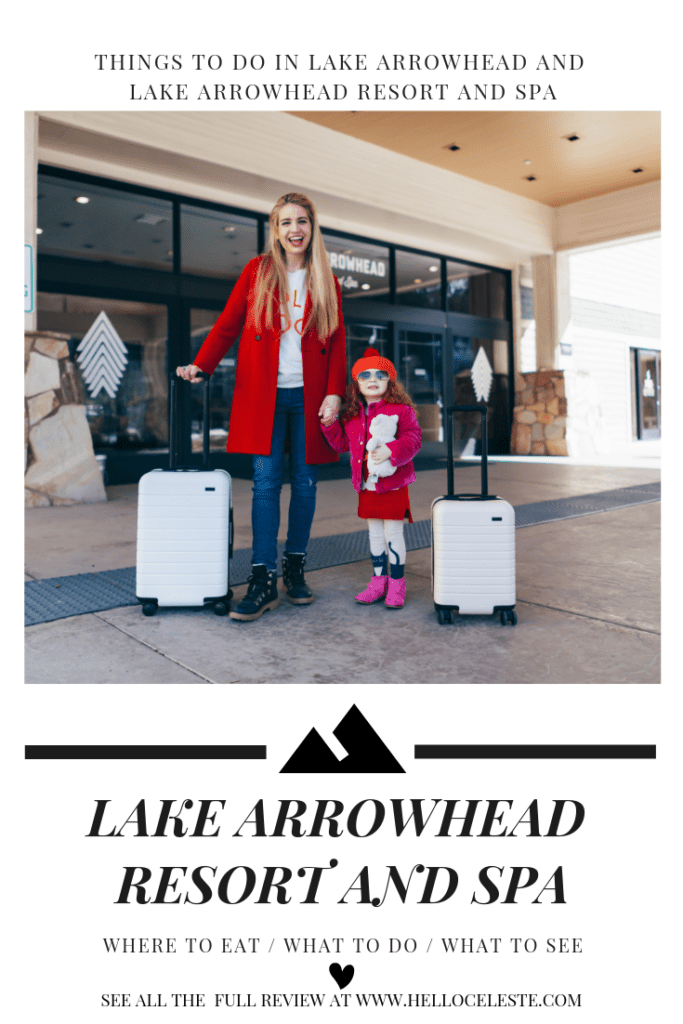 —
SEE IT ON THE 'GRAM
—
SHOP FOR MAMA
—
SHOP FOR MINI
—