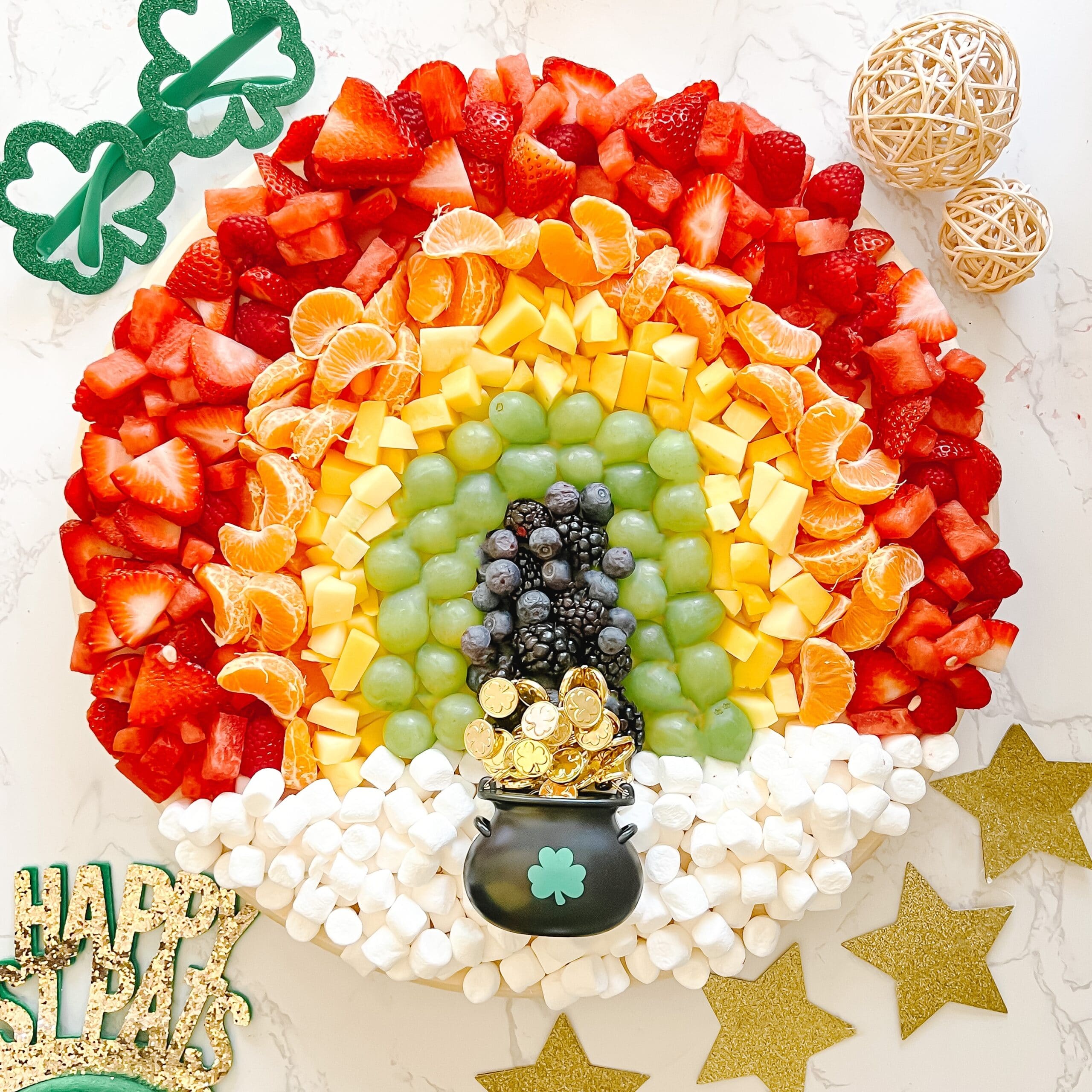 I can't believe it's already March! It feels like 2022 just began and yet here we are, already onto the third month!
This time of year in between February with Valentine's Day and April with Spring Break can seem a little uneventful, which is why I love that we have St. Patrick's Day to mix things up a bit! It's simple enough that there's no stress involved with preparing for it, but still fun and exciting! My sister has this tradition where she puts green food coloring in the toilet to show that they had some visitors stop by, and I love it! It's just one of the many fun little ways you can celebrate!
With St. Patrick's Day just around the corner, I wanted to make a yummy and festive spread that Lila would be excited about. This Rainbow Snack Board is one of my favorites! It's so fun and colorful and the best part is it's made with a wide variety of delicious fruit that will make your mouth water! Fresh fruit is nature's candy and it's such a great alternative to loading your kids up with tons of sugary candy. There's nothing better than fueling your body with healthy snacks that also feel like you're indulging. 
Even the pickiest of eaters will be able to find something they love in this rainbow, even if it is just the marshmallow clouds  and I love that it's so easy to switch up since there are so many fruit options! The prep for this spread is so minimal it's insane, and it looks so beautiful and yummy that no one will be able to resist. 
This St. Patrick's Day Rainbow Snack Board could also be perfect to take into the classroom or have set up the morning of St. Patrick's Day by the little leprechauns who surely will be visiting your home! How amazing would it be to see they left a big rainbow and pot of gold behind?! The excitement and wonder in those little eyes will make the small effort feel like a huge one. 
So get festive this St. Patrick's Day and celebrate this fun holiday with some delightful fresh fruit and fluffy cloud marshmallows! Everyone will adore you for it!
If you have any questions about Heart Shaped Donuts
leave them in the comments below.
XO, CELESTE WRIGHT