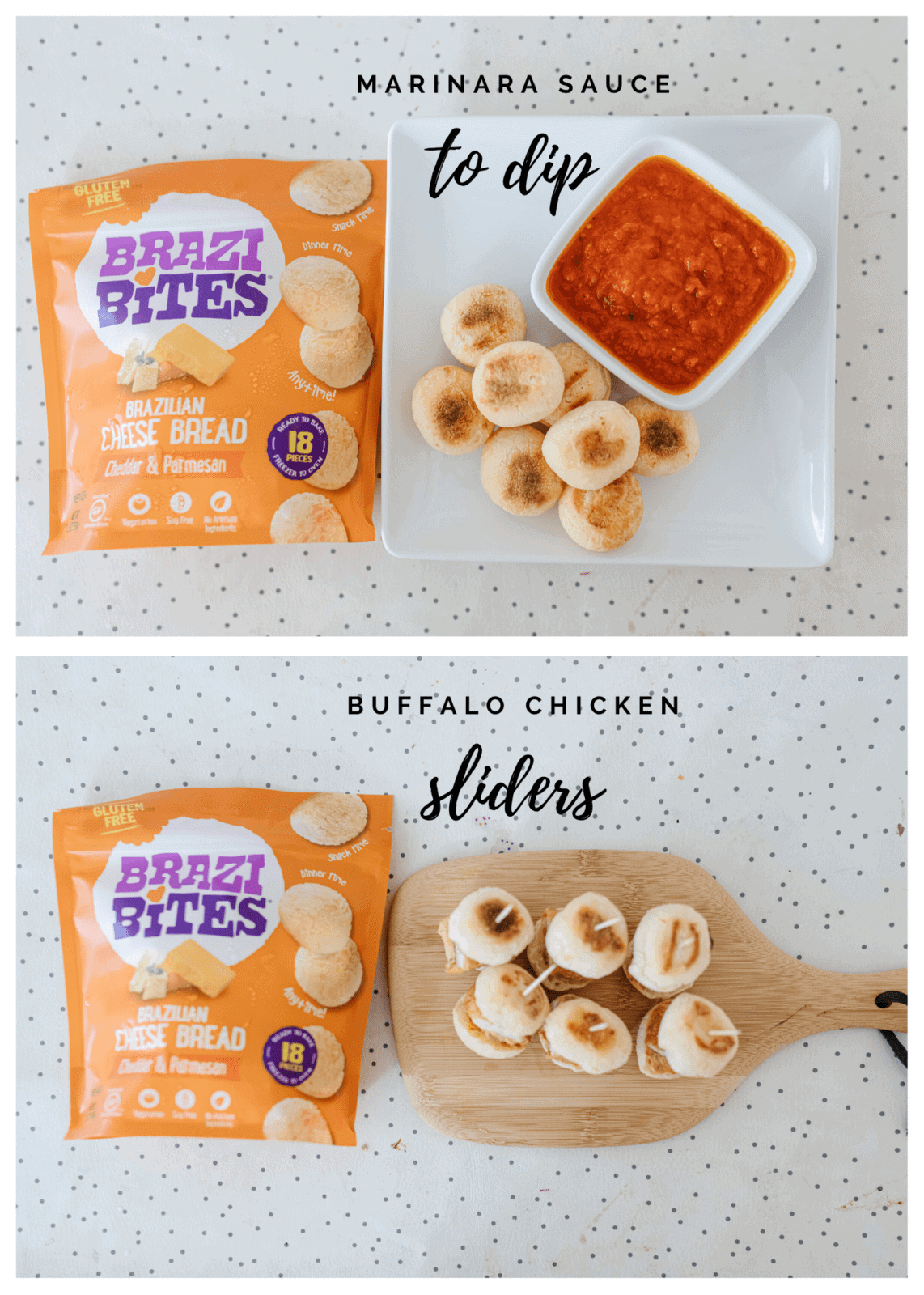 Family Friendly Recipes With Brazi Bites
Last week I took over the Brazi Bites Instagram and shared 2 recipes using their Cheddar and Parmesan Brazilian Cheese Bread. Brazi Bites are so easy to make and are a sure fire crowd pleaser. They have 3 different cheese blends and a cinnamon churro style! They also added 4 different Empanadas: chicken, beef, and two vegetarian options. Everything they make is so so good and will leave you feeling like a world class chef in the kitchen.
Cheddar & Parmesan with a marinara dipping sauce: the perfect after school snack or before dinner appetizer. You can make a marinara from scratch or open a jar from the pantry. Heat on the stove on low heat for 2 minutes and serve.
Cheddar & Parmesan buffalo chicken sliders. An easy lunch for one or appetizer to share. On one pan cook the Brazi's and chicken in the oven. Let both cool. Cut the Bites in half. Cut the chicken to match the size. Add a buffalo almond paste, sliced pickles, and hold together with a toothpick. Bon Apetit!
—
Brazi Bites are
Latin-Inspired
Naturally Gluten-Free,
Irresistible Taste!
The authentic family recipe with simple wholesome ingredients.
Incredibly delicious. Freezer-to-oven convenience. 
BRAZILIAN CHEESE BREAD
Cheddar & Parmesan: Perfect for making sliders or dipping in your favorite sauce.
Garlic Asiago: Freshly grated Asiago cheese for a perfect rich & nutty flavor.
3 Cheese Pizza: Everything you love about a slice of pizza fresh from the oven!
Cinnamon Churro: Our newest flavor, sweet and delicious baked up fresh.
EMPANADAS
Chicken & Cheese: Wrapped inside a crispy, savory crust, our Chicken & Cheese Empanadas are sure to please with perfectly cooked shredded chicken, beans, cheddar cheese and a blend of flavorful Latin spices.
Beef & Bean: Made with shredded beef, beans, peppers and onions, our Beef & Bean Empanadas evoke a sizzling fajita right off the skillet, and our cheesy crust makes them unlike anything you've had before.
Black Bean & Cheddar: These savory Empanadas are packed with hearty black beans and fresh cheddar cheese seasoned to perfection. Simply delicious, Black Bean & Cheddar is a fan-favorite for a reason.
Chickpea & Veggie: This colorful medley of chickpeas, beans, crisp corn, onions and tomatoes is bursting with fresh flavor. Our Chickpea Veggie Empanadas are full of plant-powered protein and tasty veggies.

—-
????????Giveaway????????
Head to my Instagram page to win 5 free bags of Brazi Bites of your choosing!
—
If you have any questions leave them in the comments below.
XO, CELESTE WRIGHT
[ See more RECIPE posts here / See the INSTAGRAM post here ]
*Thank you to Brazi Bites for sponsoring this post.
LIKE WHAT YOU SEE? SAVE IT FOR LATER ON YOUR FAVORITE PINTEREST BOARD.