An Unforgettable Summer Picnic | Using The Cricut Joy
Summertime is my absolute favorite. The days are longer, school is out, and everyone is always ready to go to a backyard bbq. I absolutely love planning get-togethers for Lila and her friends. This summer we will be doing a lot of that! I wanted to kick off the summer with a fruit themed table that would get the kids excited about summer and get excited about loading their plates full of yummy fruits! Crafting is one of my favorite things. On the to do list is:
Make festive cutlery
Make "yum" cups 
"Summer" cut out on each placing 
Some small games to keep the kids occupied at the table (exp: dice)
I knew this was a job for my Cricut Joy. I have been a long time fan of my Cricut Explore and recently I added the Joy to my collection for those quick and spontaneous projects. This little machine is a powerhouse! I am always blown away by what it can do. 
The first step for every project is opening the Cricut Design Studio on either your computer, iPad, or mobile device. I prefer to use my computer because it is close to my machine, but it is nice to have so many options to access the studio. First up we are going to select our machine, Joy. Then we get designing.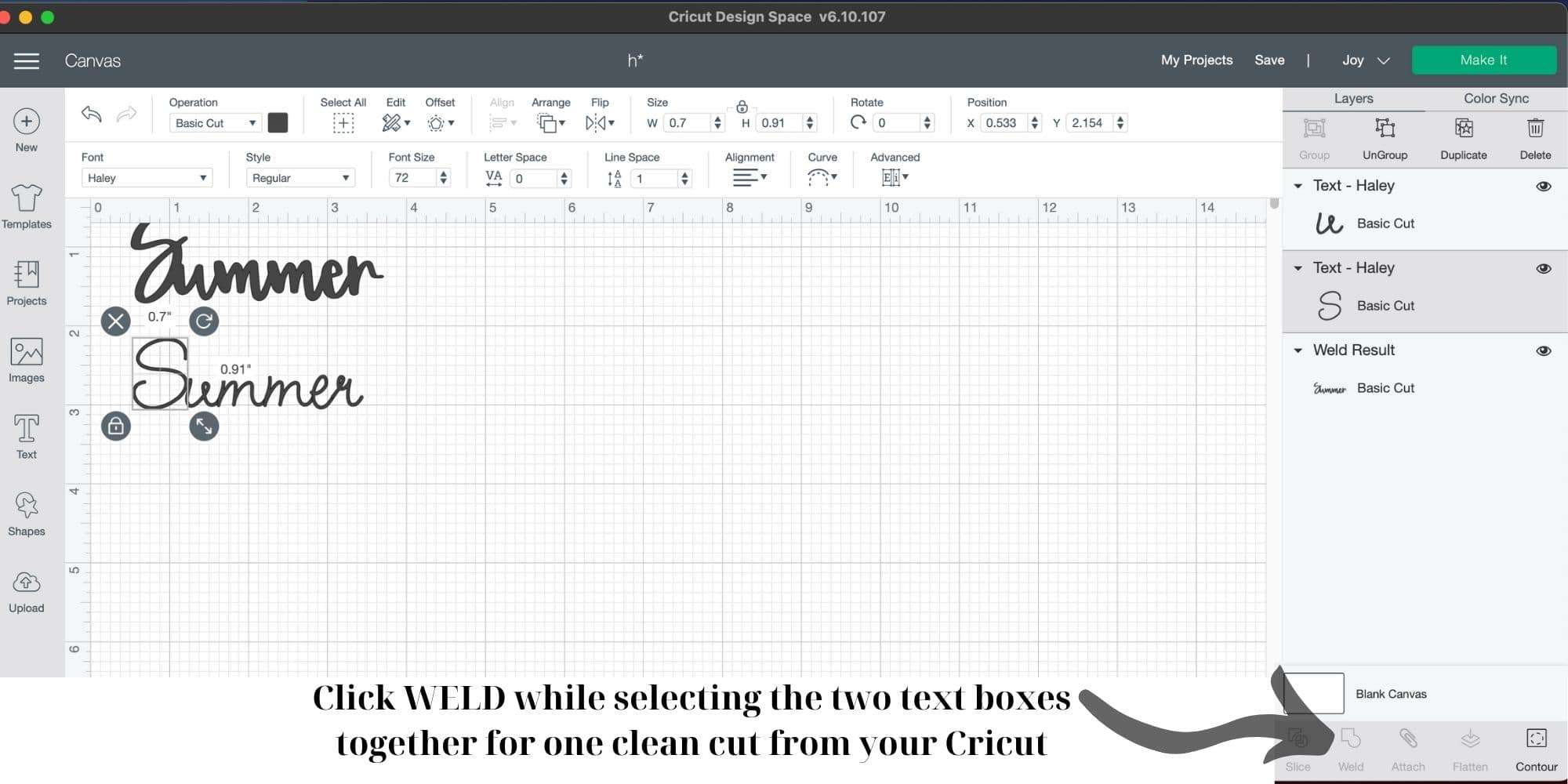 First we will design our "Summer" cut out for each placing. Since I want this to come out in one piece, we are going to use the weld tool to make sure all of the letters are connected. I also like to pick a cursive type font since those look better connected. To get the letters connected you will weld text boxes together until they appear all overlapping. Then you will click weld on the bottom right corner. In this case I only had to weld S + ummer. So it only took 2 text boxes. Sometimes it can be many text boxes, but it is so worth the end result of one beautiful cut out. I always place my cardboard of choice on a Cricut Machine Mat.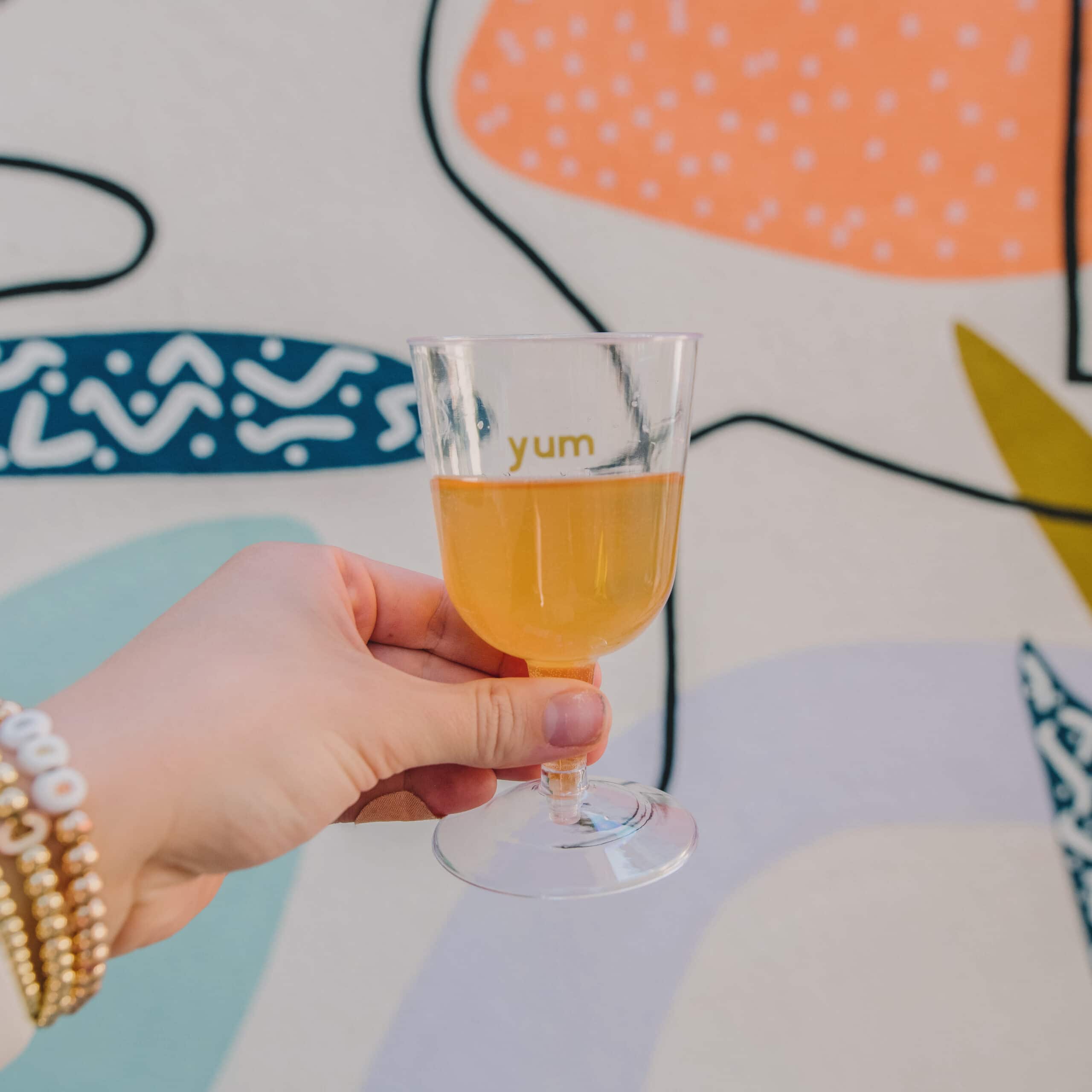 Second we will design our "yum" cups using Cricut's Permanent Vinyl in Gold. You can pick any font you want, and then click print. Once the Cricut cut each letter out I carefully weeded the vinyl off the sheet. The tools in the Starter Tools Set are perfect for these vinyl projects. Next I cut Cricut's Transfer Tape to match the size and transferred the vinyl to the tape. From there is a piece of cake transferring your "Yum" to virtually any surface. In this case I went with our clear cups. Perfect for sparkling lemonades!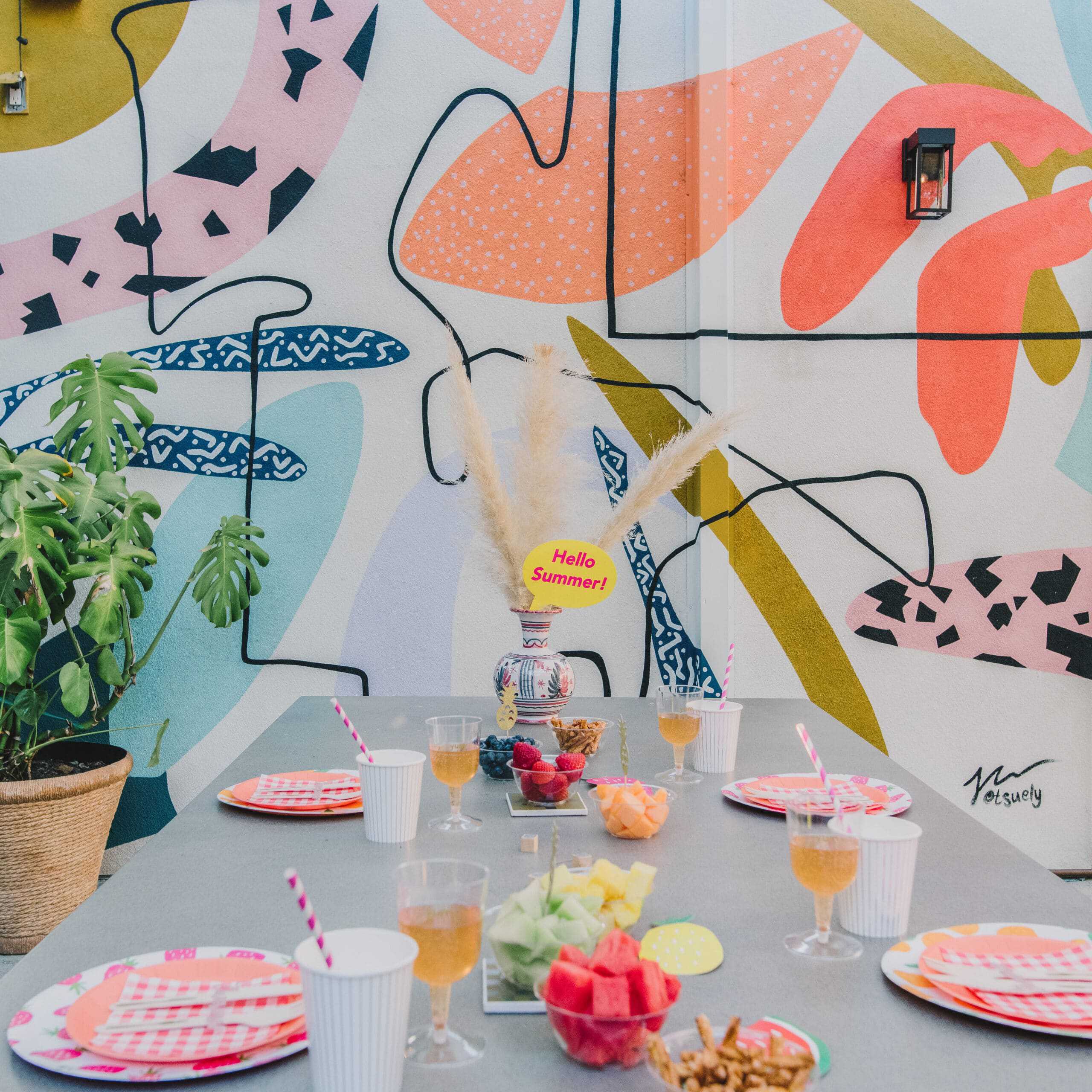 The last thing for our place setting is festive cutlery. I wasn't sure what I wanted to do here, but after browsing through all of Cricut's adorable images I found… cutlery! It might be redundant, but I happen to think it's pretty cute! I created these the same way as the "yum" cups. I put the forks and knives images onto  Permanent Vinyl in Gold. and once they were cut out I used the Transfer Tape to place them onto the cutlery. I love how easy this project is, while making the place setting look and feel complete.
Lastly, I wanted to make some small games to keep the kids occupied at the table. I went to the dollar store and found some coasters and wooden blocks to use. I made dice out of the tiny wooden blocks and made miniature chess boards onto the coaters. There are tons of options to pick from by searching "games" under images in the Design Center.
I hope you enjoyed taking a peak at our backyard BBQ, before the kids got to it! If you have any questions please leave them in the comments below.
XO, Celeste Wright