We have all been there.
Well at least I've been there. With an overtired and cranky toddler getting pushed around in a shopping cart desperately trying to get each item on my list into the cart. We pass by the crackers, she cries for crackers, I give her the crackers. We pass by the cookies, she cries for cookies, I give her the cookies. And so on and so forth. Before I know it I can't even see my kid because she is under a pile of snacks in the shopping cart. Then we get into the checkout line and out comes my telephone my kid is so sugar-ified that now she wants to run around. This is just fine for a Tuesday morning at 9am, but the last thing I wanted to do during this busy holiday season.
I have been using Milk and Eggs service instead of going to the grocery store for months now. Their produce is absolutely amazing. I would compare their their fruit and veggies to farmer's market quality, but with grocery store prices. (Yeah, score!) But really the best part is I take the shopping list off of my refrigerator and after my toddler is asleep I sit down and on my phone or computer I make my order. It's delivered to my doorstep before I wake up the next morning and I start the day feeling productive with a well stocked kitchen.
I can't say enough good things about this service, or about not having to to grocery shopping with my two year old. I mean I love shopping with her at the mall, Target, or wherever. But grocery shopping? Skip. If you want to try Milk and Eggs with me this holiday season I snagged you a 40% off coupon- and 40% off groceries, I mean c'mon. When does that ever happen?! Happy Holidays everyone!
Enjoy 40% off your first purchase at MilkandEggs.com when you click this link or copy and paste it in a new browser: http://i.refs.cc/7oLxIJB5      (coupon will automatically be applied to your cart)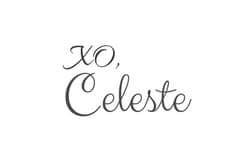 *Photos by Rebecca Orlandini Photography