Halloween Baskets For Kids
With fall just around the corner I thought it would be fun to share with you how we are planning to spend our 2020 Halloween season. Normally we would have a calendar full of events and traditions and ending the month with trick or treating around Silver Lake. This year looks totally different, but there's no excuse to not have a great time anyways. I want to keep the fun going!
We are super close with my sister + her two kids and we are going to spend Halloween night with them at their house this year. They have been our best friends since COVID hit- but we were this close anyways so we have very little to complain about and a lot to be grateful for. I love our combines three kiddos so much and I want them to have a fun + festive Halloween season even thought they can't leave the house. There are still tons of fun things to do at home.
I thought it'd be fun to round-up some of my favorite affordable halloween basket ideas for kids. 2020 has been nothing short of a CRAZY year and since we will not be participating in trick or treating this year I wanted to do something special!
I love making Lila a basket for holidays because it just feels so fun and festive. Sometimes I even take things she already has and incorporate them into the basket. It doesn't have to be all new things! I love taking a holiday themed book that gets put away at the end of the season, and giving it to her in a basket as a fun way to present it in a fun way. We put away all of our holiday themed things in the same storage box so when I open it I am able to "shop" for a few things for her basket before she even sees them.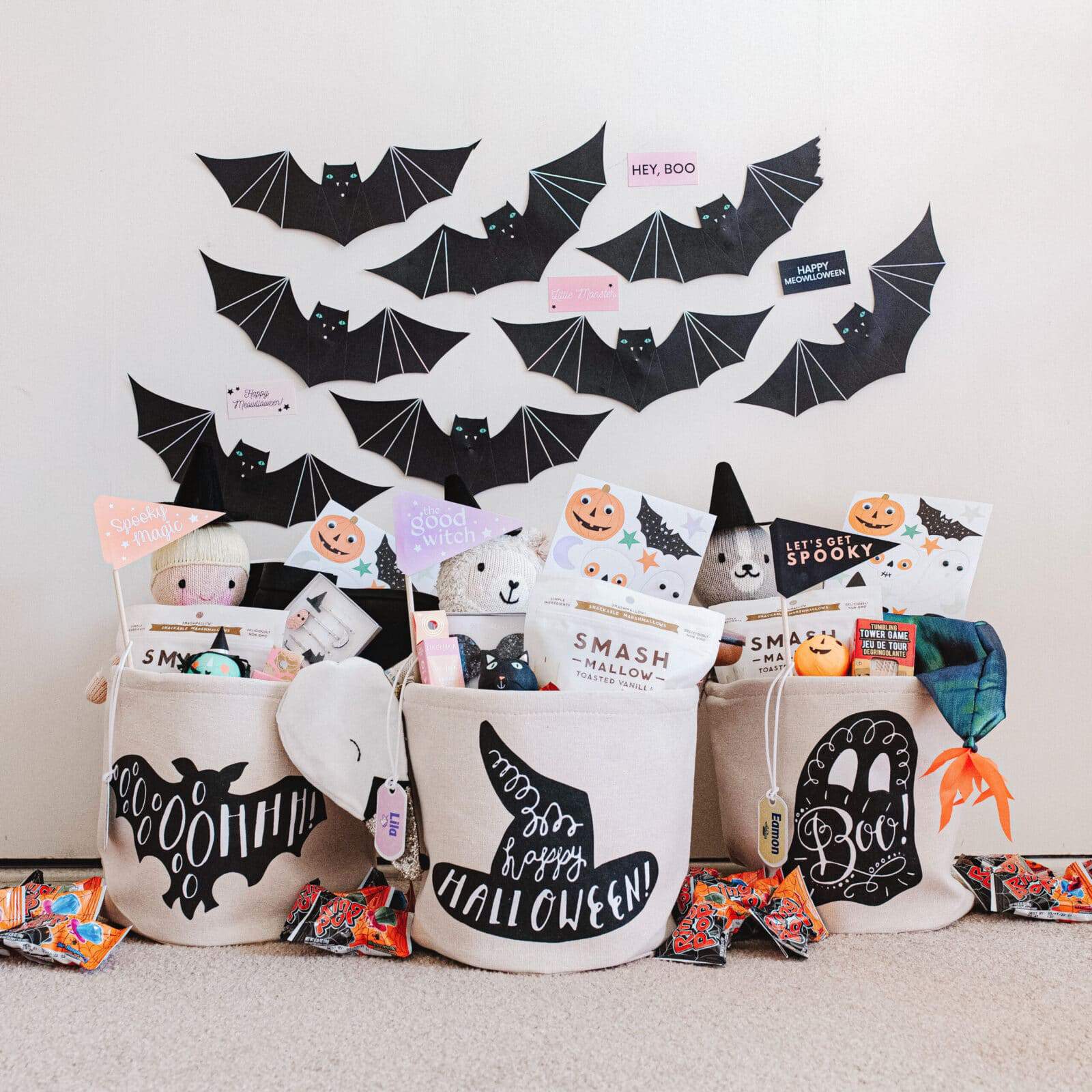 Skye the Mermaid | Violet the Fawn | Noah the Dog
cuddle and kind sized witch hats
Halloween Motif Sticker Sheets | Bat Bow Glitter Hair Clips | Halloween Icons Mini Sticker Roll | Hanging Bat Decorations | Halloween Surprise Balls | Halloween Icons Glitter Hair Slides | Swan Cape Dress Up | Dragon Cape Dress Up Costume
Vanilla | Pumpkin Pie | Cinnamon
See my full post of what's inside the baskets here.
If you have any questions about Halloween Baskets For Kids leave them in the comments below.
XO, CELESTE WRIGHT
[ See more Halloween posts here ]
LIKE WHAT YOU SEE? SAVE IT FOR LATER ON YOUR FAVORITE PINTEREST BOARD.