I cannot believe I am a mama to a 5 year old! I always put so much thought into what I get her for her for holidays and her birthday. And I think it is so fun! I have so much fun checking out the latest in toys for her that it feels like a hobby. So I rounded up the best gifts for a 5 year old girl. Whether you guys to are looking to shop for your own kids or other 5 year olds in your life- here's everything you need to know about.
—
Squeezamals Picnic Pack, 5 pc
Picnic themed pack.

Re-usable, lunch box package.

Includes 5 squishy, slow-rise plush characters.

Each squeezamal is sweetly scented.
—
Barbie Doll and Travel Set with Puppy and Luggage
Barbie Doll and Travel Set with Puppy, Luggage & 10+ Accessories
Send curious minds around the world with Barbie doll and a travel-themed set inspired by Barbie Dreamhouse Adventures that comes with a puppy for a travel companion, luggage and more than 10 accessories

Barbie doll's pink suitcase has a collapsible handle and opens and closes for packing and unpacking fun -decorate it with the included sheet of stickers (like emojis and a pink passport)

Iconic travel items included in the set are decorated with bright colors and fun decals – there's a neck pillow, headphones, eye mask, water bottle, toothbrush, toothpaste, camera and cell phone

Barbie doll is ready to visit places near and far wearing a denim shirtdress with a colorful belt detail and trendy sneakers to match -a pair of sunglasses adds the finishing touch

With so many fun travel pieces, this Barbie set makes a great gift for young explorers and fans of the series because when a girl plays with Barbie, she imagines everything she can become
—
Polly Pocket Tiny Pocket World
Polly Pocket Tiny Pocket World, Polly & Dolphin
Each compact opens to reveal a fun location and is small enough and take anywhere for great Polly Pocket adventures

Each compact opens up and inside it contains a specific location, two secret reveals, three accessories, a micro figure and one hidden accessory

Take Tiny Pocket Places on the go for Polly Pocket fun, anytime, anywhere!

It's a new way to play with Polly and discover all new places and adventures!

Collect them all!
—
OOLY Chunkies Paint Sticks
MESS FREE – When you want to paint colorful pictures but want to leave the mess behind then it's time to reach for Chunkies Paint Sticks. Chunkies are super easy to use, clean and portable because they're like painting with a crayon. Just uncap, twist and start painting.

EASY GRIP – Chunkies comes in a set of 12 different colored paint sticks each in a thick barreled casing so they're easy for little hands to hold.

QUICK DRYING – The paint colors are quick drying and won't smudge, but it's easy to mix colors to make even more colors. It's magic!

IDEAL GIFT – This paint stick will paint bright, beautiful art and will bring joy to any child, each time they use it. This cute and sweet set is the ideal gift set.

SUITABLE FOR AGES 3 AND UP – Safe around your kids ages 3 and up.
—
Caboodles Pretty in Petite Case
Caboodles Pretty in Petite Case
Color: 10 Marble Color Options

Compact carrying case

Two swivel trays

Included Fashion Mirror

The dimensions are 9 x 5.5 x 3.75 inches
—
Cubcoats Kali The Kitty 2-in-1 Transforming Hoodie and Soft Plushie
Cubcoats Kali The Kitty – 2-in-1 Transforming Hoodie and Soft Plushie
CUBCOATS DESIGN: Extraordinary, inside and out: Cubcoats are magical 2-in-1 cuddly stuffed animals that convert into comfy hoodies. Designed to inspire your little one, and make your life easier! From Cubcoat original characters to franchise favorites, there's a new best friend for everyone.

SUPER HIGH QUALITY: Keep calm and cuddle on: ethically sourced, made with premium, non-allergenic materials. Each Cubcoat is fully lined for maximum comfort. We've thought about every detail—from the adorable animal ears on the hood to the soft-tipped zipper pull, Cubcoats are guaranteed fun and safe for your little one!

EASY TO CARE FOR: Adventure approved: Cubcoats are easy to through in the washing machine and are safe in the dryer. Our cotton-blend fabric is tested to last over 1000+ washes. Our Cubcoats are built to last!

PARENT-APPROVED: A recognized winner of the National Parenting Product Award, you can trust Cubcoats to deliver only the highest quality mommy- & daddy-approved products.

THE PERFECT GIFT: The best gift for ages 2-10 years old! You will love seeing the reactions of little one in your life when they discover what their new best friend can do!
—
Crayola Glitter Dots DIY Keychains
Crayola Glitter Dots DIY Keychains
Includes 1 Crayola Glitter Dots DIY Keychains Craft Kit featuring 42 Glitter Dots, 3 keychains, 20 beads, and 1 craft tool

Made from an innovative, glitter-infused compound that is less messy than loose glitter and sticks to most surfaces

Create glitter art with 6 uniquely vibrant colors and make it pop with the 20 included beads

Use the provided projects or create your own sparkly arts and crafts for girls and boys

Perfect craft supplies for kids ages 5 and up
—
My Travel Tray
Keep everything you need within arms reach, and out from between the seats

Securely fits into your cup holder in cars, car seats, strollers, outdoor chairs and even movie theaters

Included cup attachment to help adjust to almost any cup holder

Top rack dishwasher-safe for easy cleanup

100% Made in USA – BPA/ Phthalate/ PVC Free
—
PLUS PLUS 70 Piece Pastel Color Mix –Construction Building Stem Toy, Interlocking Mini Puzzle Blocks for Kids
SIMPLE DESIGN – FUELS CREATIVITY: One shape, endless possibility! Every brick easily connects to the next. Create colorful flat mosaics or work in 3-D to make more intricate builds. Mix and match any Plus-Plus set to bring more ideas to life!

EDUCATIONAL FUN: Plus-Plus empowers children with free explorative play as they encourage fine motor skills, logic, creativity and imagination all without the use of screens. A great STEM toy.

PERFECT FOR ON-THE-GO: Design and build your creations any way you want, wherever you want! Great for every adventure – car rides, restaurants, a friend's house, or in your own living room. Stay entertained for hours!

BUILDING SET INCLUDES: This Tube includes 70+ pastel pieces and an idea guide booklet. The perfect product to expand your Plus-Plus collection!

SUGGESTED FOR AGES 5-12: Each Plus-Plus piece measures 3/4″ x 1/2″. Appeals to a broad range of ages! Made from high quality BPA-free and phthalate-free plastic. Made in Denmark.
—
SCHLEICH Rainbow Unicorn Foal
In the light of the morning sun, the mane gleams in all the colors of the rainbow!

Glittering rhinestones on body.

Create your own landscape or add to one of your Schleich playsets!

Realistically detailed for the ultimate play and educational experience!

Each figurine is individually crafted out of high-quality plastic.
—
Petite N Pretty 10K Shine Lip Gloss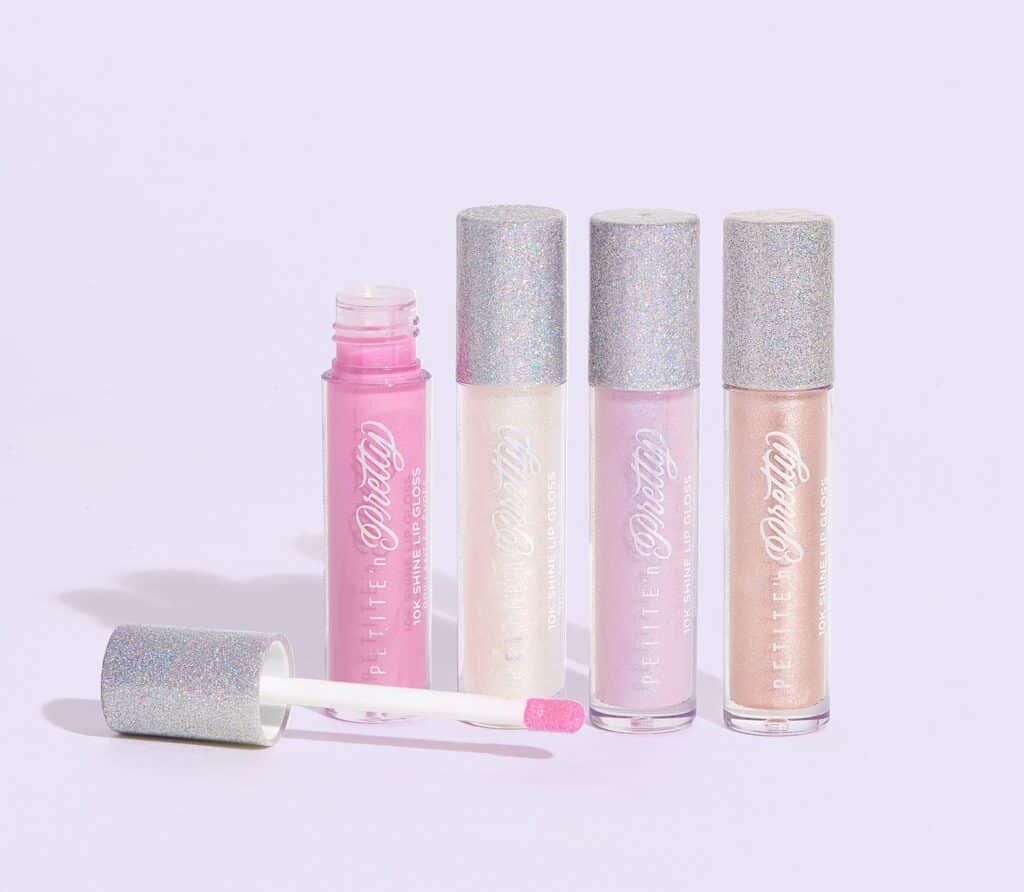 —
Do you have a 5 year old girl you're shopping for?  I would love to hear some of their favorite things! Please let me know in the comments.  Thanks for reading!
XO, CELESTE WRIGHT
—
Like what you see? Save this to your favorite Pinterest board.