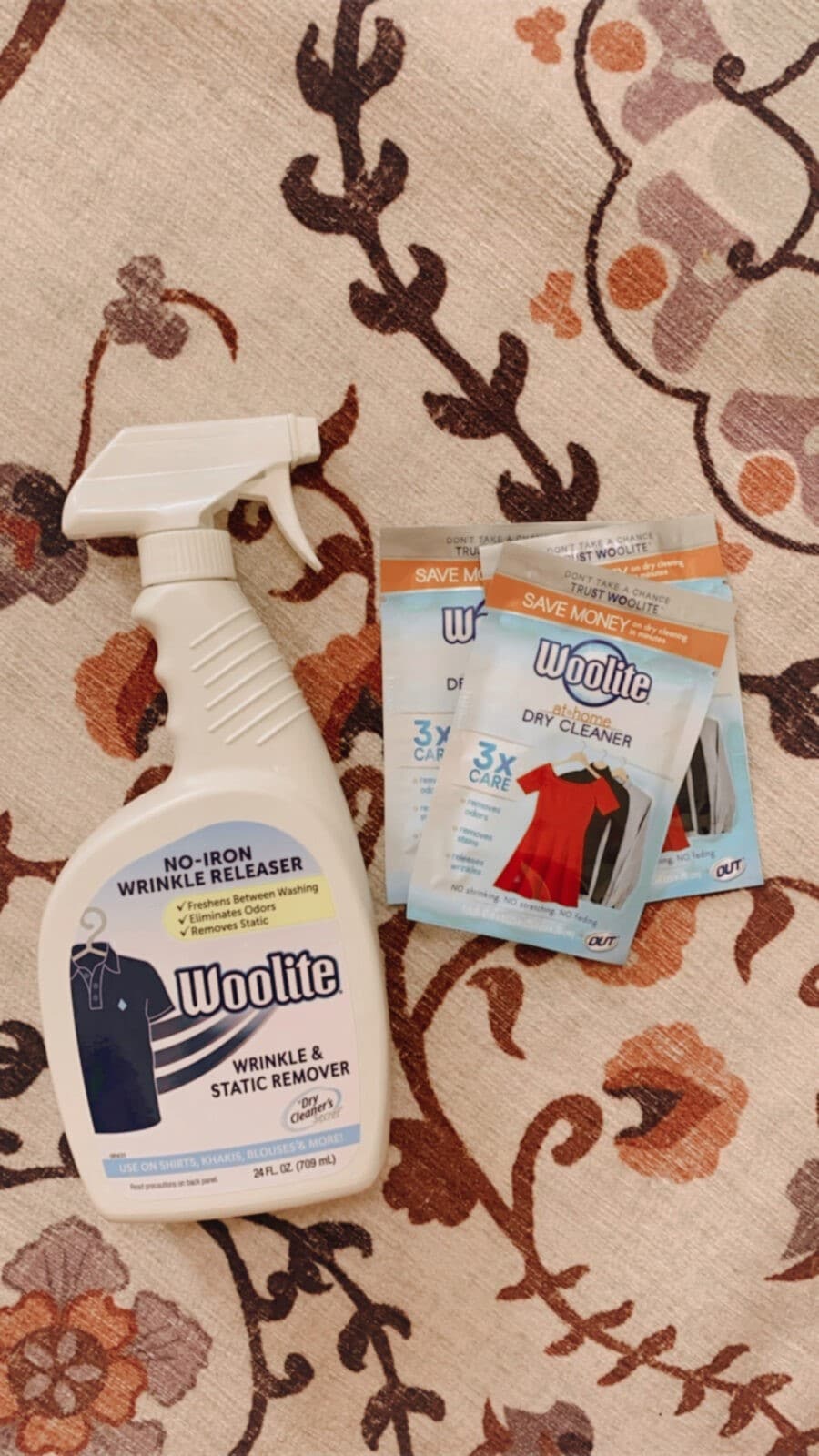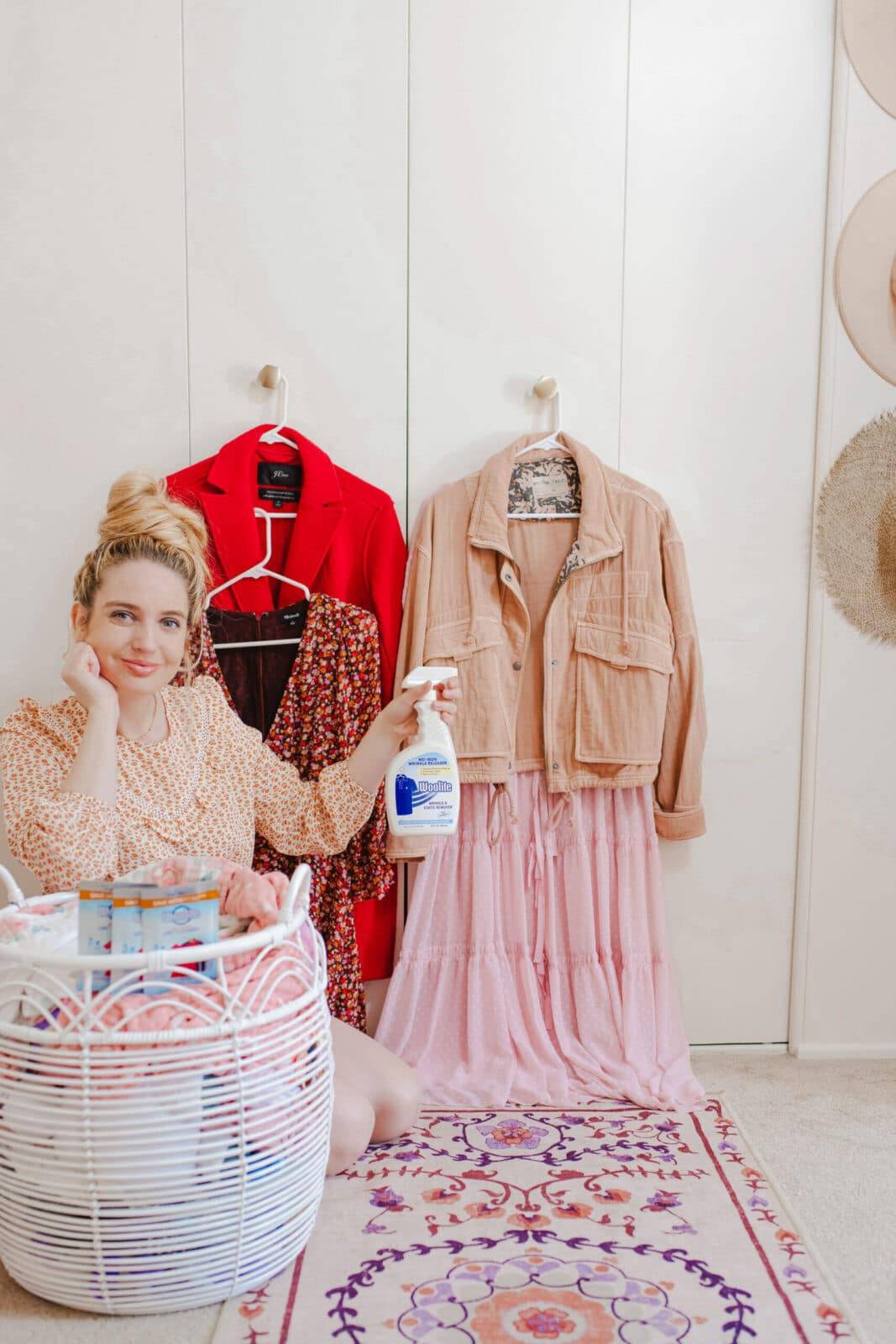 DRY CLEAN CLOTHES AT HOME
It's Laundry Day! Do you have a designated day for laundry or do you just wait until it's piled up – We go back and forth. Right now it's definitely a case of waiting until it is piled up. I even have a pile high of my clothes to send out for dry cleaning. So I researched how to dry clean clothes at home.
I found out that Woolite At Home Dry Cleaner is a really popular choice. Today I tried it out & am super happy with the results! The perfect solution to get us through this tough time. I'll keep a stock on hand in the future too.
Products Used
—
Wrinkle Static Remover 24 Fl. Oz. Bottle
Woolite Wrinkle & Static Remover reduces wrinkles without ironing. Designed to quickly, easily and safely de-wrinkle, freshen, remove odors and eliminate static from all fabrics. This most versatile product is great for use in the home, office, dorm or when traveling. Great for use on clothing, curtains, throw pillows, furniture and more. With Woolite, it's as easy as spray, smooth, and hang.
—
Woolite At Home Dry Cleaner makes dry cleaning easy and convenient. Offers 3X care as it removes odors, removes stains and releases wrinkles from dry clean only, special care clothing and difficult to clean items. Gently cleans and will not cause shrinking, stretching or fading. Advanced cleaning technology ensures no harsh chemicals. Is safer to use on more fabrics than any other At-Home Dry Cleaner. This fast, easy and bag-free cleaner, offers a superior clean by allowing dirt and lint to collect in the dryer filter and not on your clothes. Clothes are refreshed, de-wrinkled and ready to wear in minutes. This kit includes individually packaged, versatile and instant OUT Stain Wipes to enhance stain removal at home or on the go. Use Woolite regularly to save time and money on dry cleaning and to protect the special care items you love so they look newer longer.
—
Get ready to be your own dry cleaner. Let me know if you try these products out.
XO, CELESTE WRIGHT
[ See more Mom Style posts like this by Celeste Wright ]
LIKE WHAT YOU SEE? SAVE IT FOR LATER ON YOUR FAVORITE PINTEREST BOARD.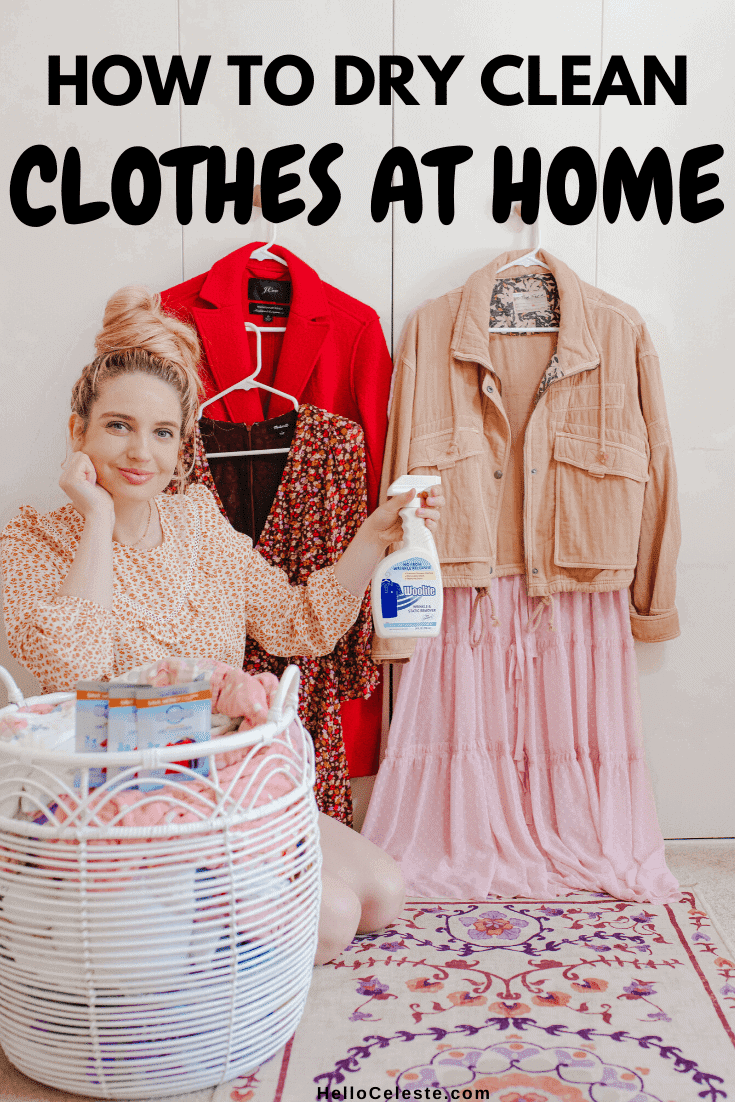 *Thank you to Hello Summit Brands for sponsoring this post.