OUR FAVORITE LEARNING RESOURCES AGE 5
I have been homeschooling Lila since last fall. It has been going great! We take it one day at a time and so far this is working for us. Every month I like add a couple new things to our learning bins. This keeps things interesting and fresh for the both of us. We are also able to learn new things with our favorite learning resources age 5. Activities can range from learning letters, recognizing patterns, or matching and sorting.
Some of these activities we have had for years and some we just added yesterday. Some were instant hits. And some were not exciting at first. Those ended up getting played with the most. Give it patience and don't forget you can think of multiple ways to use each activity.
We have a bookshelf full of different activities so of course some get used more than others. Below I have rounded up my absolute favorites that are never too early to start adding to your collection.
–
1.Learning Resources Three Bear Family Pattern Cards
—
2.Learning Resources Baby Bear Counters
—
3.Learning Resources Three Bear Family Counters
—
4.Learning Resources Handy Scoopers
—
5.Learning Resources Helping Hands Fine Motor Tool Set
—
6.Learning Resources Smart Snacks Alpha Pops
—
7.Learning Resources Mini Muffin Match Up Counting Toy Set
—
8.Learning Resources Letter Blocks
—
9.Learning Resources Goodie Games ABC Cookies
—
10.Learning Resources Alphabet Acorns Activity Set
—
11.Learning Resources ABC Cupcake Party Toppers
—
I hope you found some fun new activities to keep your littles busy while learning!
XO, CELESTE WRIGHT
[ See more Homeschooling posts here ]
LIKE WHAT YOU SEE? SAVE IT FOR LATER ON YOUR FAVORITE PINTEREST BOARD.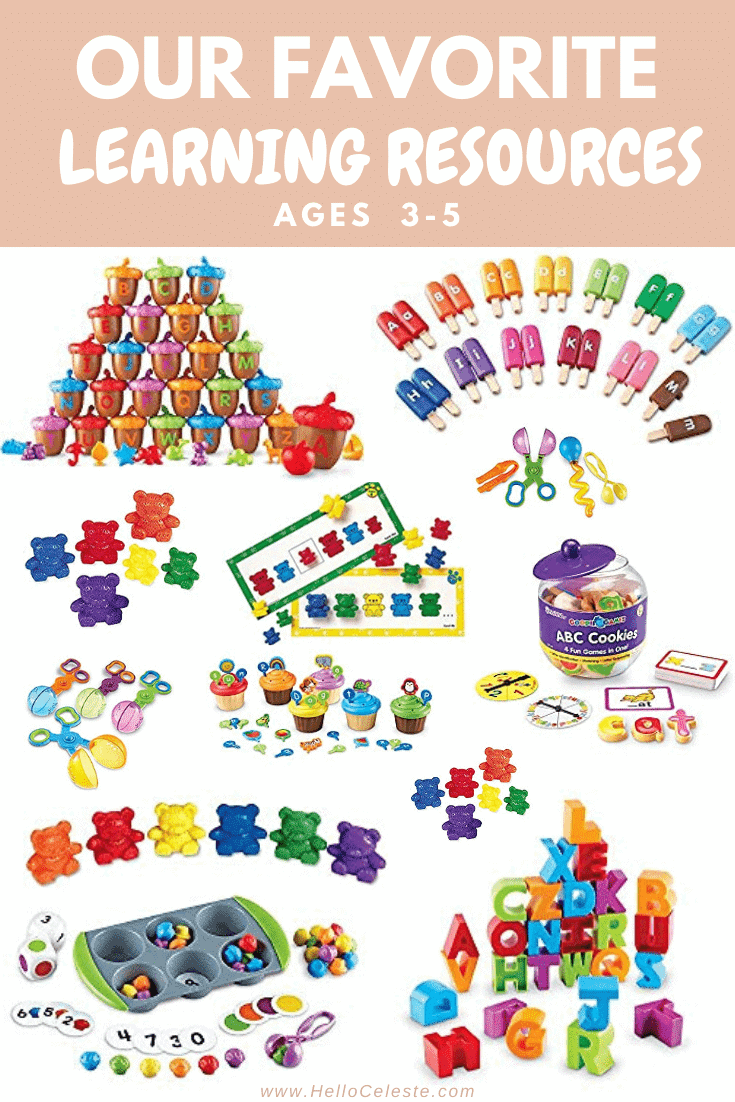 *This post contains affiliate links.